Today at CES 2023 AMD announced its 'Zen 4' Ryzen 7000X3D desktop processors with with 3D V-cache technology. With the announcement of these chips AMD aims to fight against Intel high-end 'Raptor Lake' processors, namely the the Core i9-13900K/KS. AMD claims that the Ryzen 7000X3D will be the fastest gaming processors on the market.
If you're unfamiliar or not sure what the term 3D V-cache means, in essence it's a 3D vertical packaging to stack more L3 cache memory that AMD adds on top of its desktop processors thanks to the use of chiplets. First introduced on the 'Zen 3' based Ryzen 5800X3D, delivering a boost of substantial performance particularly in gaming.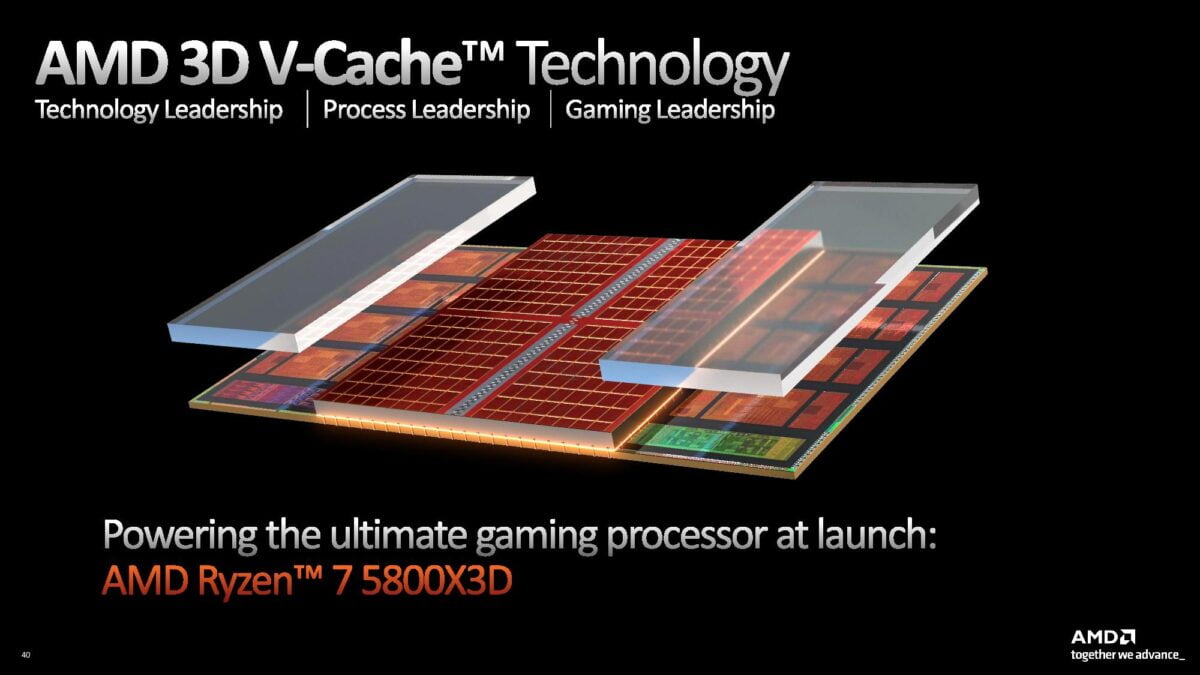 In fact when Ryzen 5800X3D launched, it was the fastest gaming processor, trading blows and even beating much more expensive chips, with the help of 3D V-cache technology, the Ryzen 5800X3D managed to punch above its weight and beat Intel's flagship CPU at the time, the Core i9-12900K, all without any TDP increase, and while being $120 cheaper.
AMD is hoping to repeat this success again with the introduction of Ryzen 7000X3D CPUs to reclaim the gaming crown. As impressive as the Ryzen 7000X3D chips are, the company also expanded its desktop processor lineup with the introduction of 65 W Ryzen 7000 non-X desktop CPUs, providing more affordable options for consumers.
Ryzen 7000X3D Desktop CPUs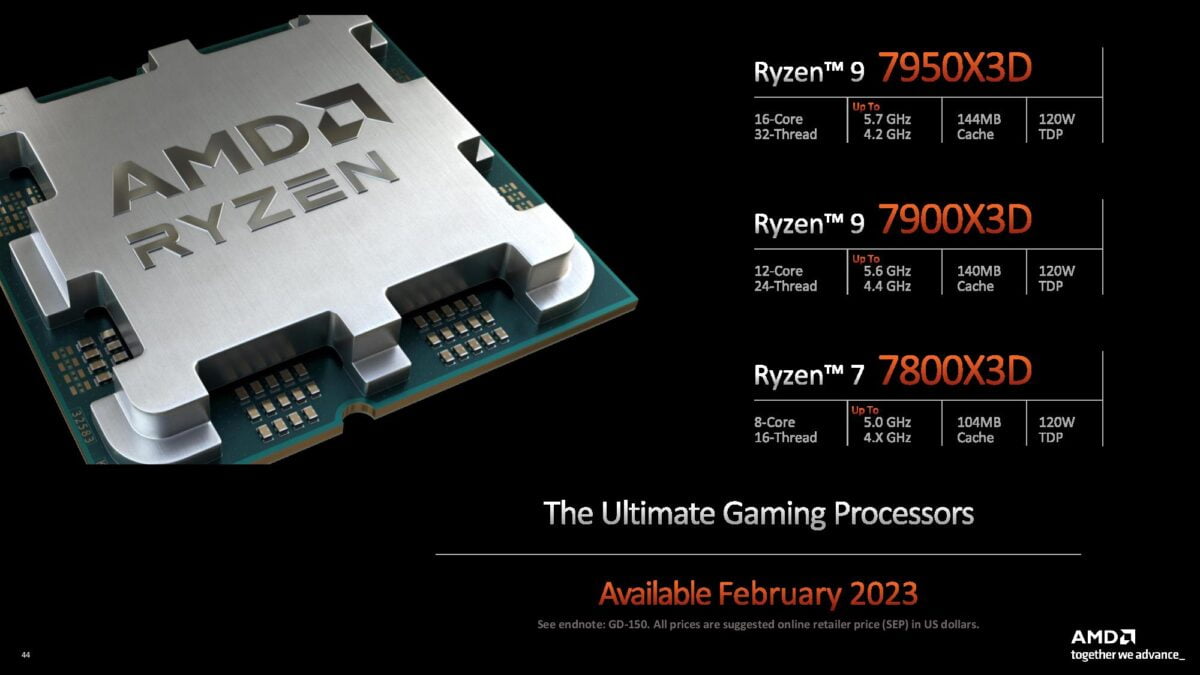 Unlike last gen desktop Ryzen CPUs where AMD introduced 3D V-cache technology on the Ryzen 5800X3D, this time AMD has 3 SKUs in the pipeline led by the flagship Ryzen 9 7950X3D, the first 16-core AMD CPU with 3D stacking technology with max boost clocks of up to 5.7 GHz.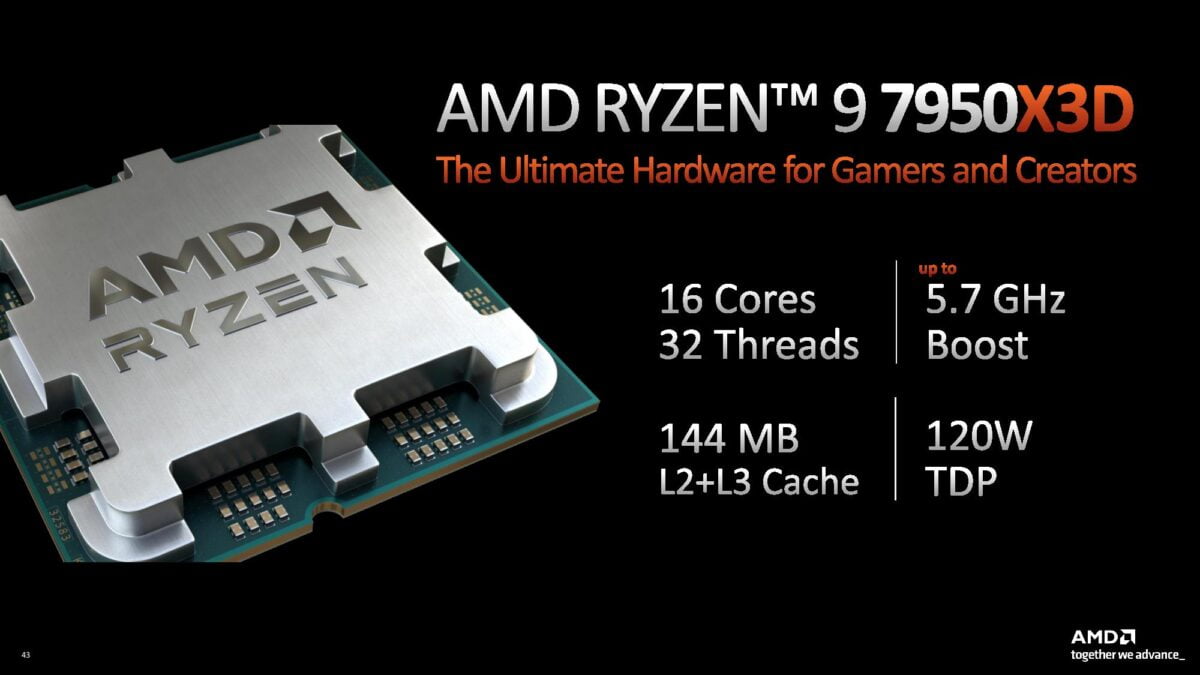 The company also unveiled the 12-core Ryzen 9 7900X3D, and 8-core Ryzen 7 78003D processors, with boost clocks of up to 5.6 GHz, and 5.0 GHz respectively. AMD claims that in gaming performance, the flagship Ryzen 9 7950X3D will beat the 'competition' / Intel's fastest processors by up to 24% in some titles, while the Ryzen 7800X3D will have up to 30% more performance than its predecessor the Ryzen 5800X3D.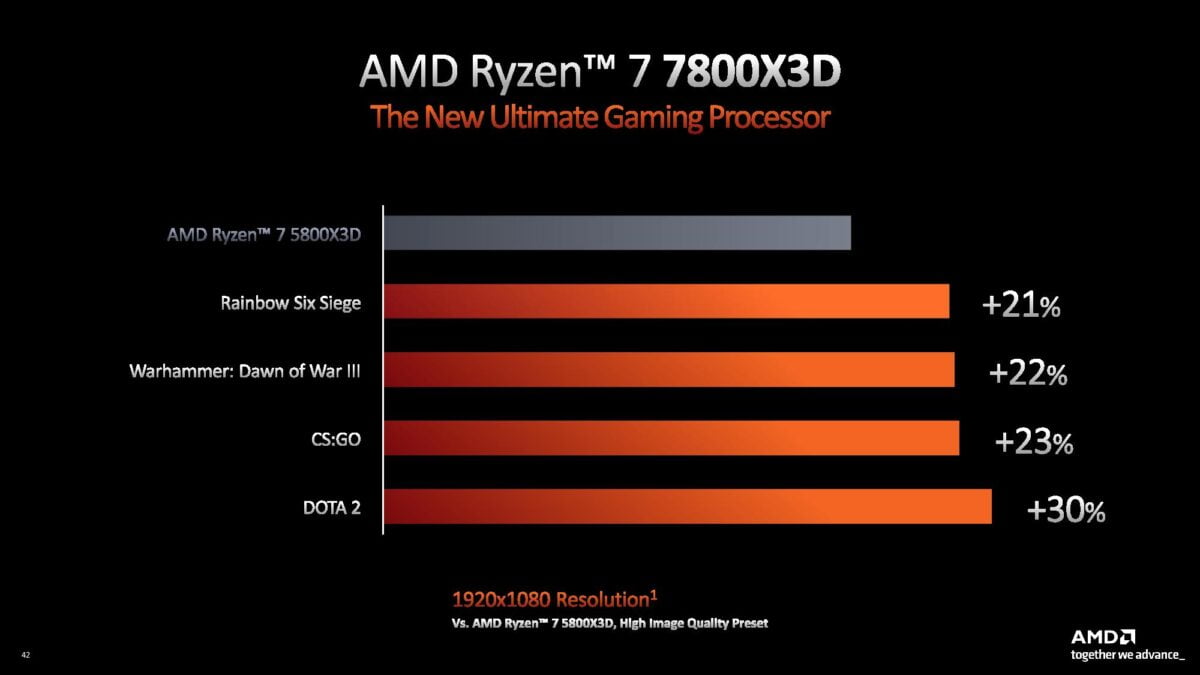 One can expect that the high-end Ryzen 7000X3D CPUs will come at a premium, however, AMD has not disclosed any information regarding their price, they did however disclose that the 3D V-Cache chips will arrive in February.

Processor
Configuration
Cores / Threads
Clocks
Base/Boost
Total Cache
L2+L3
TDP
Ryzen 9 7950X3D
16C/32T
4.2/5.7 GHz
144 MB
120 W
Ryzen 9 7900X3D
12C/24T
4.4/5.6 GHz
140 MB
120 W
Ryzen 7 7800X3D
8C/16T
TBD/5.0 GHz
104 MB
120 W
AMD Ryzen 7000X3D Specs
Ryzen 7000 Non-X Desktop CPUs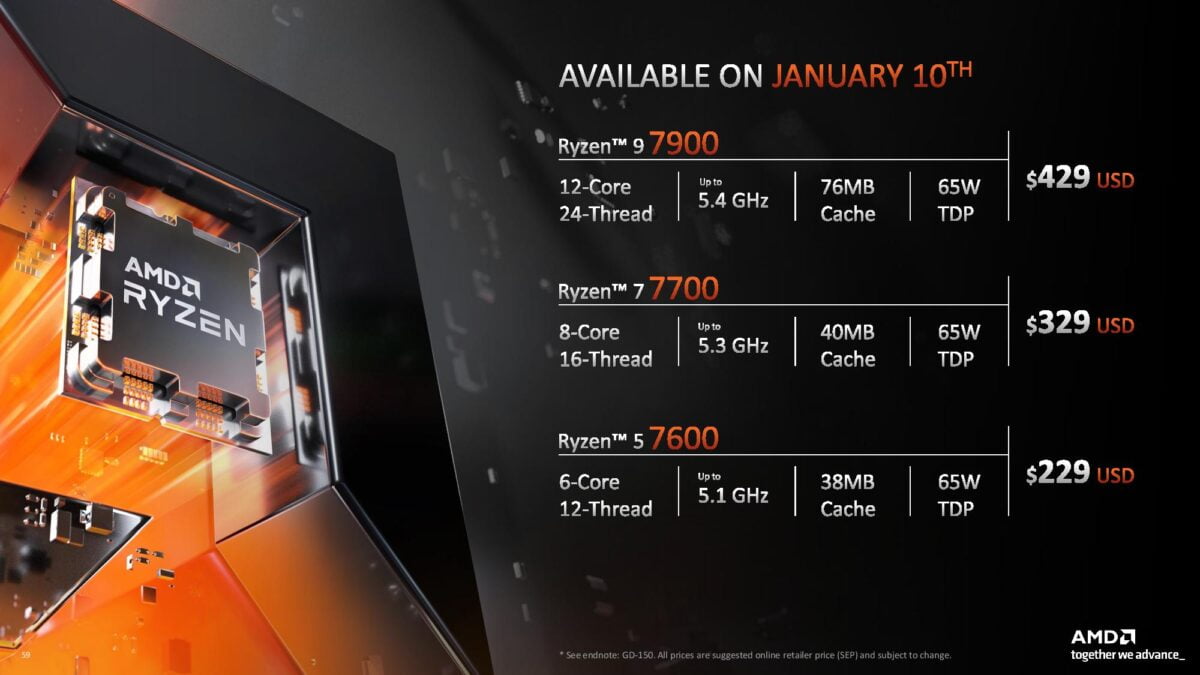 AMD also expanded its desktop processor lineup by introducing the Ryzen 7000 non-X series, released for the AM5 socket with 65 W TDP, these chips come in 12-core, 8-core, and 6-core flavors.
The non-X processor come with reduced base clock speed and max boost speeds compared to their 7000X counterparts, they include the 12-core / 24-thread Ryzen 9 7900, the 8-core / 16-thread Ryzen 7 7700, and finally the 6-core / 12-thread Ryzen 5 7600.
The Ryzen 9 7900 will boost up to 5.4 GHz and will have a price tag of $429, Ryzen 7 7700 will have a max boost clocks of up to 5.3 GHz and comes with a $329 price tag, and the Ryzen 5 7600 boosts up to 5.1 GHz and will be priced at $229, The 7000 non-X CPU series will launch on January 10th. Both the Ryzen 9 7900 and Ryzen 7 7700 will have a Wraith Prism RGB cooler, while the Ryzen 5 7600 will have a Wraith Stealth cooler.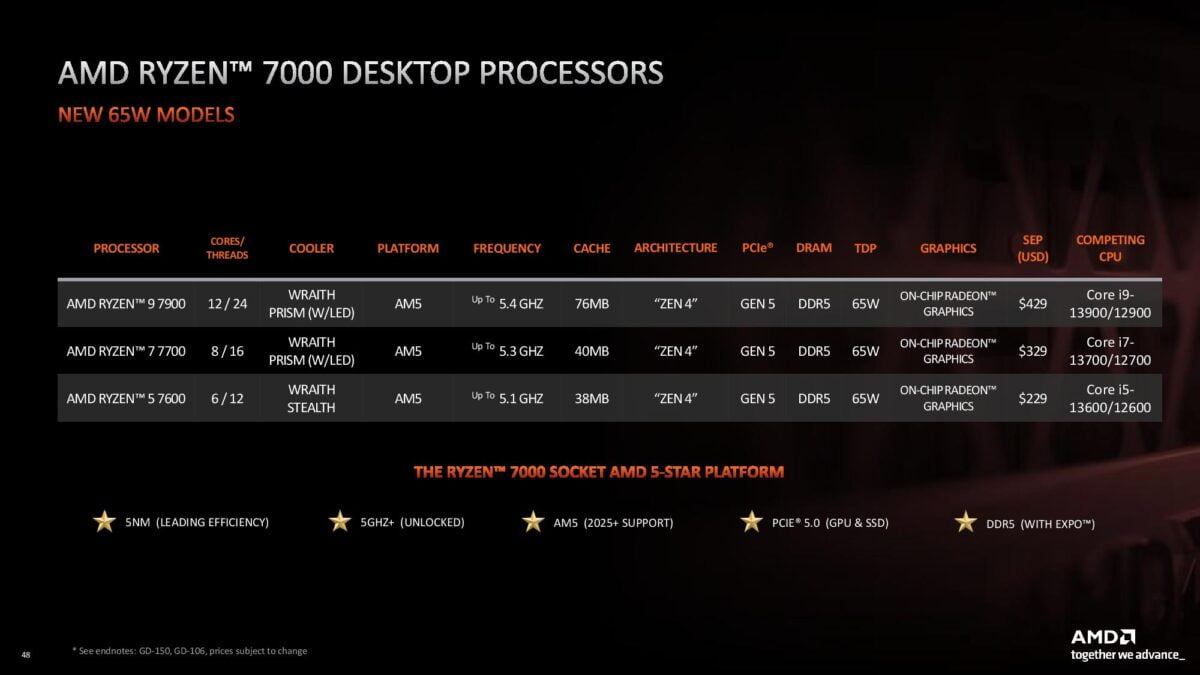 AMD claims that even at stock speeds, these Ryzen 7000 non-X processors will have a significant performance boost over the Zen 3 Ryzen 5000X series, but through PBO (precision boost overdrive) adjustment, you can squeeze out yet more performance by raising the power limits and improve their performance by as much as 35%.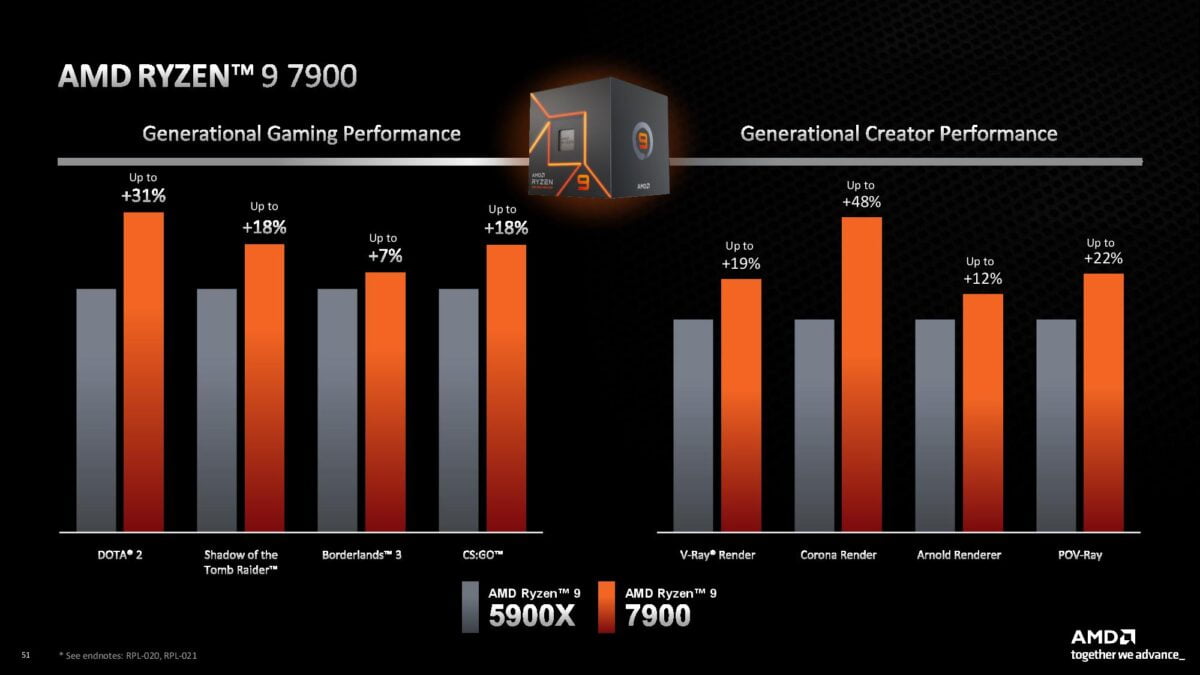 Processor
Configuration
Cores / Threads
Clocks
Base/Boost
Total Cache
L2+L3
TDP
MSRP
USD
Ryzen 9 7900
12C/24T
3.7/5.4 GHz
76 MB
65 W
$429
Ryzen 7 7700
8C/16T
3.8/5.3 GHz
40 MB
65 W
$329
Ryzen 5 7600
6C/12T
3.8/5.1 GHz
38 MB
65 W
$229
AMD Ryzen 7000 non-X Specs