At a Glance
Series: Raptor Lake-S
Platform: Desktop
Socket: LGA 1700
Cores/Threads: 24C/32T
Core Config: 8P+16E
L3 Cache: 36 MB
P-Core Base: 3.2 GHz
P-Core Turbo Boost: 6.0 GHz
Integrated Graphics: UHD 770
Memory: DDR5 5600 / DDR4 3200 MT/s
Base Power: 150 W
Max Turbo Power: 253 W
Announced: September 27, 2022
Launch Date: January 12, 2023
Launch MSRP: $699
First mentioned on September 27th during Intel Innovation 2022 event when CEO Pat Gelsinger confirmed that the company will launch a special Raptor Lake processor that will debut in 2023.
Today Intel officially launches the Core i9-13900KS at $699 US, the 13900KS is a pre-binned limited special edition of the Core i9-13900K. The Core i9-13900KS comes with 24-cores/32-threads, and 36 MB of L3 cache, but what makes it special is that it is the first CPU in history to boost to 6.0 GHz out of the box and without any overclocking.
CPU
Cores / Threads
Clocks
Base / Boost
Power
Base / MAX
Launch
MSRP (USD)
13900KS
8P+16E
32T
P 3.2/6.0 GHz
E 2.2/4.3 GHz
150 / 253 W
$699
13900K
13900KF
8P+16E
32T
P 3.0/5.8 GHz
E 2.2/4.3 GHz
125 / 253 W
$589
$564
13900
13900F
8P+16E
32T
P 2.0/5.6 GHz
E 1.5/4.2 GHz
65 / 219 W
$549
$524
Intel 13th Gen Raptor Lake Core i9 Processors
Built using the Raptor Lake hybrid architecture it comes with 8 P-cores + 16 E-cores, the P-cores also have a base clock speed of 3.2 GHz, which is 200 MHz faster than the Core i9-13900K.
The Core i9-13900KS is meant for enthusiasts and people who generally enjoy overclocking, it is the best-binned silicon that Intel 13th-gen has to offer, in essence this is the 'crème de la crème' and as such it does come at a premium, at $699 the Core i9-13900KS is $110 more expensive than the Core i9-13900K which has a retail price of $589.
Intel has raised the default TDP of the 13900KS by 25 W compared to the regular 13900K, as such the limited edition Core i9-13900KS has a TDP of 150 W.
You can buy the Core i9-13900KS online here: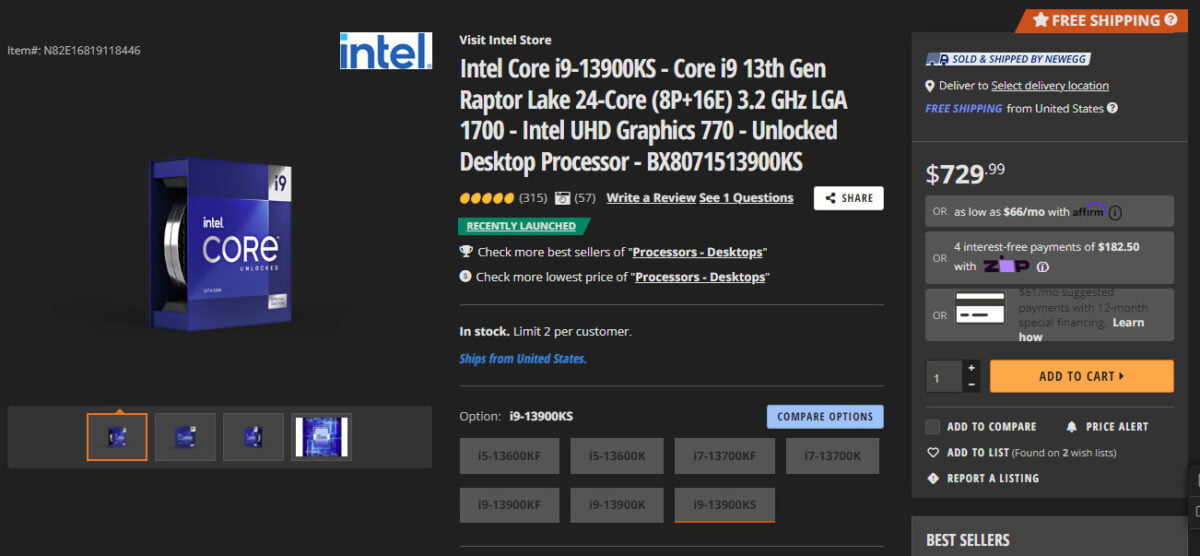 Intel has recently posted a video teasing the new chip, showing the Core i9-13900KS hitting 6.0 GHz without overclocking.