A week ago Intel officially unveiled their 13th-gen locked desktop processors on January 3rd during CES 2023, the company announced that it will expand its Raptor Lake lineup by releasing ten new locked 65 Watt TDP processors for the desktop platform, there were also six new low power variants (T-series) with a 35 Watt TDP.
Specs
In terms of specs, the locked 65 W processors follow suit as their unlocked K/KF counterparts, featuring the same core counts, threads, and cache memory sizes.
Where they differ is the clock speeds and of course the power draw, the new locked CPUs will have lower base / boost clocks, and they come with a 65 W TDP as opposed to 125 W on their unlocked counterparts.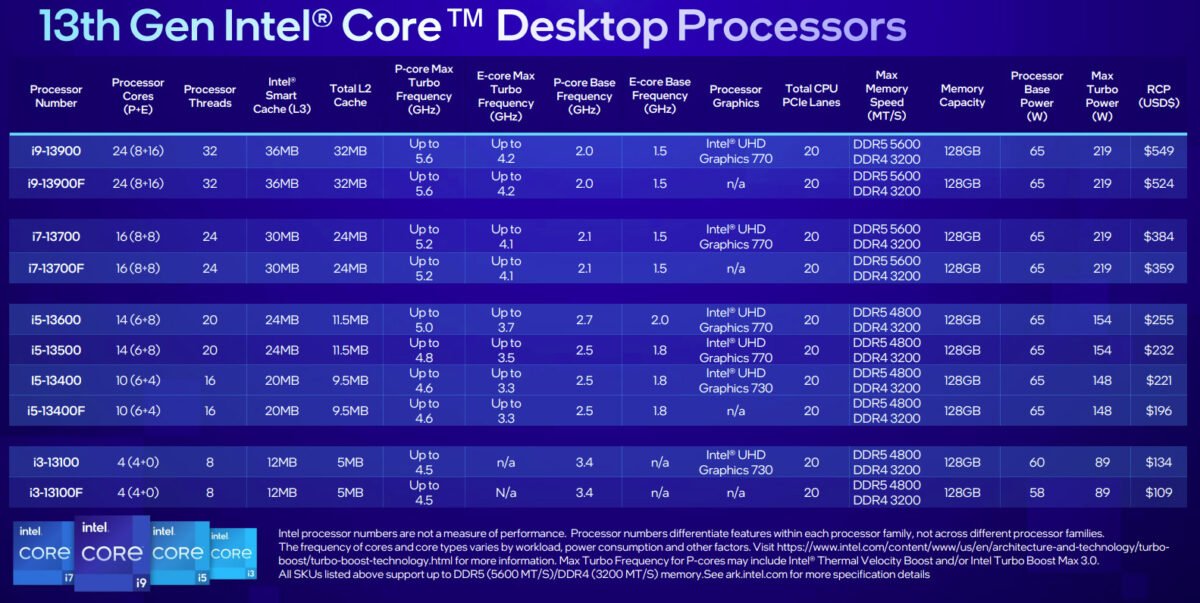 Platform and Memory Support
The new 13th-gen locked CPUs are compatible with motherboards on LGA 1700 socket, and they offer support for both DDR5 and DDR4 type memory up to DDR5 5600 / DDR4 3200 MT/s.
These CPUs will come with Intel UHD 770 integrated graphics with the exception of Core i5-13400 / Core i3-13100 as both SKUs still use the older Intel UHD 730, whereas the F variants will not include any integrated graphics at all.
Here are the specs for the entire 13th gen desktop processors:
Branding
CPU
Cores / Threads
Clocks
Base / Boost
Power
Base / MAX
Launch
MSRP (USD)
Core i9
13900KS
8P+16E
32T
P 3.2/6.0 GHz
E 2.2/4.3 GHz
150 / 253 W
TBC
13900K
13900KF
8P+16E
32T
P 3.0/5.8 GHz
E 2.2/4.3 GHz
125 / 253 W
$589
$564
13900
13900F
8P+16E
32T
P 2.0/5.6 GHz
E 1.5/4.2 GHz
65 / 219 W
$549
$524
Core i7
13700K
13700KF
8P+8E
24T
P 3.4/5.4 GHz
E 2.5/4.2 GHz
125 / 253 W
$409
$384
13700
13700F
8P+8E
24T
P 2.1/5.2 GHz
E 1.5/4.1 GHz
65 / 219 W
$384
$359
Core i5
13600K
13600KF
6P+8E
20T
P 3.5/5.1 GHz
E 2.6/3.9 GHz
125 / 181 W
$319
$294
13600
6P+8E
20T
P 2.7/5.0 GHz
E 2.0/3.7 GHz
65 / 154 W
$256
12500
6P+8E
20T
P 2.5/4.8 GHz
E 1.8/3.5 GHz
65 / 154 W
$232
13400
13400F
6P+4E
16T
P 2.5/4.6 GHz
E 1.8/3.3 GHz
65 / 148 W
$221
$196
Core i3
13100
13100F
4P+0E
8T
P 3.4/4.5 GHz
E n/a
60 / 89 W
58 / 89 W
$134
$109
Intel 13th Gen Raptor Lake Desktop Processors
Prices and availability
Here's a summary of the official launch price for each 13th-gen Raptor Lake non-K CPU announced by Intel, the Core i9-13900 has a launch MSRP of $549 while the Core i9-13900F is $25 cheaper at $524, the Core i7-13700 has a price tag of $384 with the F variant again being $25 cheaper at $359.
The Core i5-13600 and Core i5-13500 have a price tag of $256 and $232 respectively with no F variants. the Core i5-13400 has a launch price of $221 with the F variant having a sub $200 price at $196, and finally the Core i3-13100 has a price tag of $134 with the Core i3-13100F at $109.
The new locked processors are now available for purchase in the US through major online retailers like Amazon, and Newegg.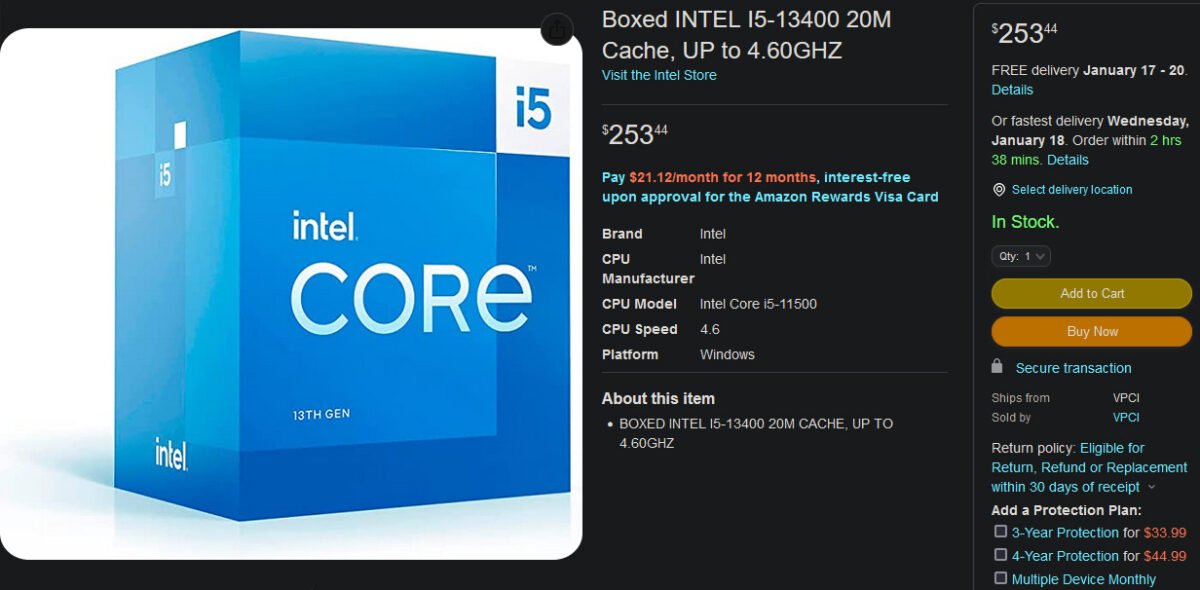 Here's a list including links for where to find each SKU and the prices listed by each retailer. Note that some models are not yet listed like the Core i5-13600, while others have very limited stock available at least for now.
Intel 13th-gen locked processors prices