Intel will expand the Raptor Lake desktop family with the inclusion of new locked 65W and 35W CPUs. The Company also unveiled its 13th gen mobile lineup which includes the HX, H, P, and U-series, led by the launch of the new flagship Intel Core i9-13980HX, the first 24-core processor for a laptop.
Desktop 65W, 35W CPUs
Intel unveiled 16 new locked desktop processors in total, with 10 of them being a 65W TDP (Non-K), Intel will also launch 6 low-power 35W variants (T-series).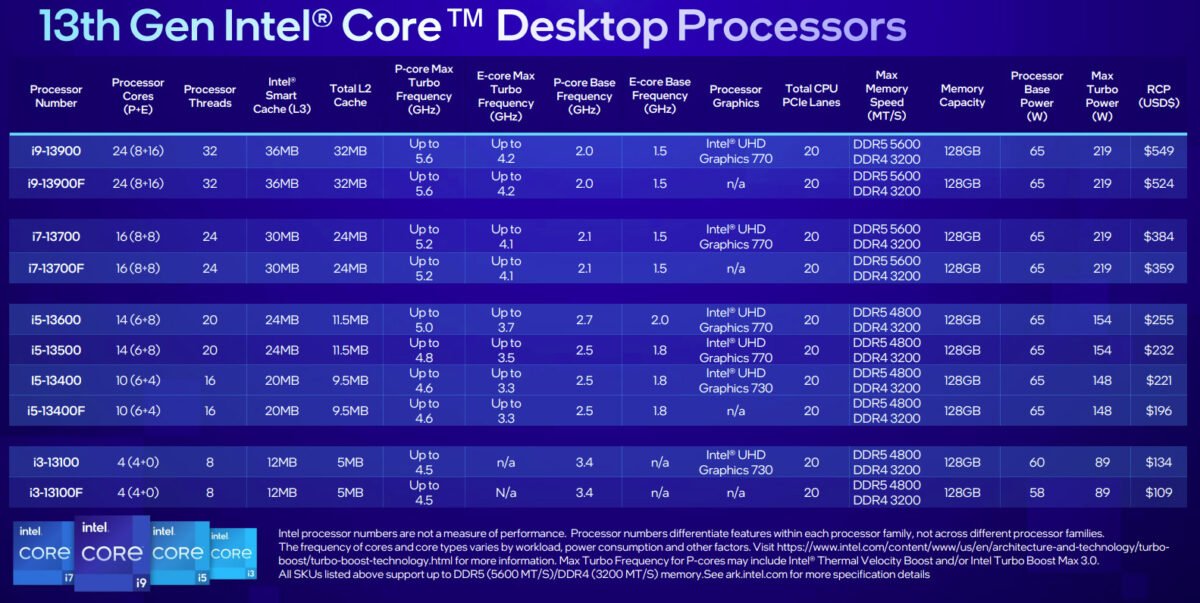 The budget 65W and 35W CPUs will have the same core count and threads as their unlocked counterparts, albeit they have reduced clock speeds, and of course lower power consumption.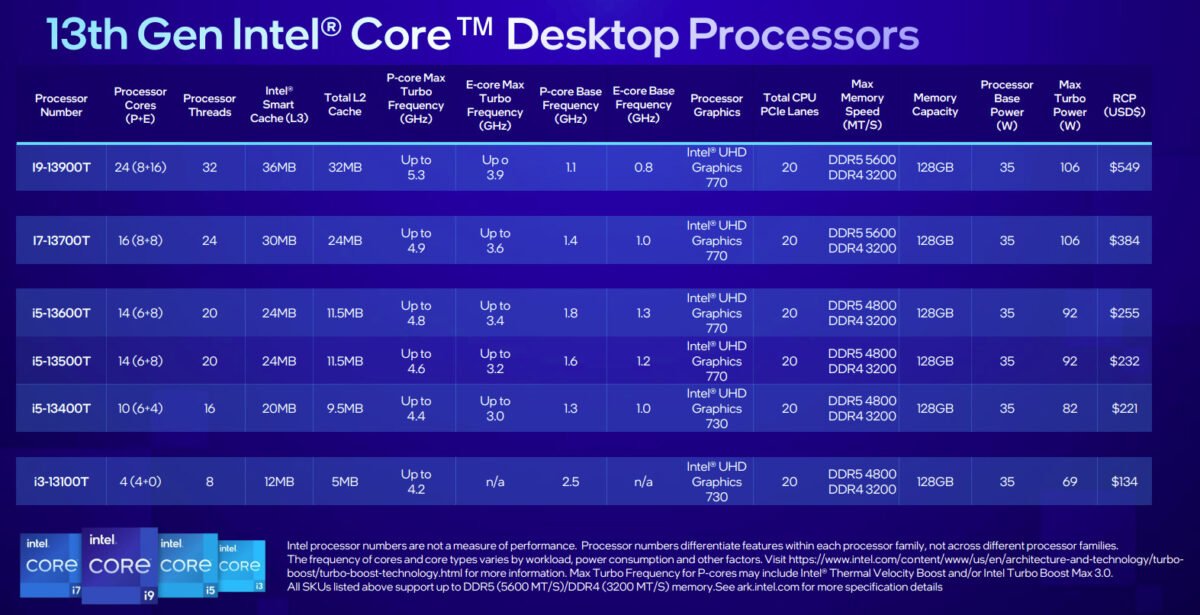 With the addition of these locked processors, the updated Raptor Lake lineup will have a total of 22 different SKUs, not to mention the Core i9-13900KS. Intel is making sure to cover every segment in the market especially the mainstream one, where it looks like you can't go $10 up or down without finding a new SKU from Intel.
This also confirms that the highly anticipated Core i5-13500 and Core i5-13400 have a sub $250 price tag, with the Core i5-13500 costing $232, Core i5-13400 being a mere $11 cheaper costing $221, and the Core i5-13400F (without integrated graphics) costing $196.
The 13th gen Raptor Lake is compatible with previous 12th-gen Alder Lake LGA 1700 socket, and offers support for both DDR4 or DDR5 memory.
Branding
CPU
Cores / Threads
Clocks
Base / Boost
Power
Base / MAX
Launch
MSRP (USD)
Core i9
13900KS
8P+16E
32T
P 3.2/6.0 GHz
E 2.2/4.3 GHz
150 / 253 W
TBC
13900K
13900KF
8P+16E
32T
P 3.0/5.8 GHz
E 2.2/4.3 GHz
125 / 253 W
$589
$564
13900
13900F
8P+16E
32T
P 2.0/5.6 GHz
E 1.5/4.2 GHz
65 / 219 W
$549
$524
13900T
8P+16E
32T
P 1.1/5.3 GHz
E 0.8/3.9 GHz
35 / 106 W
$539
Core i7
13700K
13700KF
8P+8E
24T
P 3.4/5.4 GHz
E 2.5/4.2 GHz
125 / 253 W
$409
$384
13700
13700F
8P+8E
24T
P 2.1/5.2 GHz
E 1.5/4.1 GHz
65 / 219 W
$384
$359
13700T
8P+8E
24T
P 1.4/4.9 GHz
E 1.0/3.6 GHz
35 / 106 W
$384
Core i5
13600K
13600KF
6P+8E
20T
P 3.5/5.1 GHz
E 2.6/3.9 GHz
125 / 181 W
$319
$294
13600
6P+8E
20T
P 2.7/5.0 GHz
E 2.0/3.7 GHz
65 / 154 W
$256
13600T
6P+8E
20T
P 1.8/4.8 GHz
E 1.3/3.4 GHz
35 / 92 W
$255
12500
6P+8E
20T
P 2.5/4.8 GHz
E 1.8/3.5 GHz
65 / 154 W
$232
12500T
6P+8E
20T
P 1.6/4.6 GHz
E 1.2/3.2 GHz
35 / 92 W
$232
13400
13400F
6P+4E
16T
P 2.5/4.6 GHz
E 1.8/3.3 GHz
65 / 148 W
$221
$196
13400T
6P+4E
16T
P 1.3/4.4 GHz
E 1.0/3.0 GHz
35 / 82 W
$221
Core i3
13100
13100F
4P+0E
8T
P 3.4/4.5 GHz
E n/a
60 / 89 W
58 / 89 W
$134
$109
13100T
4P+0E
8T
P 2.5/4.2 GHz
E n/a
35 / 69 W
$134
Intel 13th Gen Raptor Lake Desktop Processors
Mobile HX-Series: Extreme Performance
One look at the flagship Intel Core i9-13980HX specifications tells you all you need to know about what to expect from the HX series, with 24 (8P+16E) cores, 5.6 GHz clock speed, and the fact that its built on Intel desktop CPU dies, the HX series means business and it is all about performance at all costs, though one has to wonder about battery life!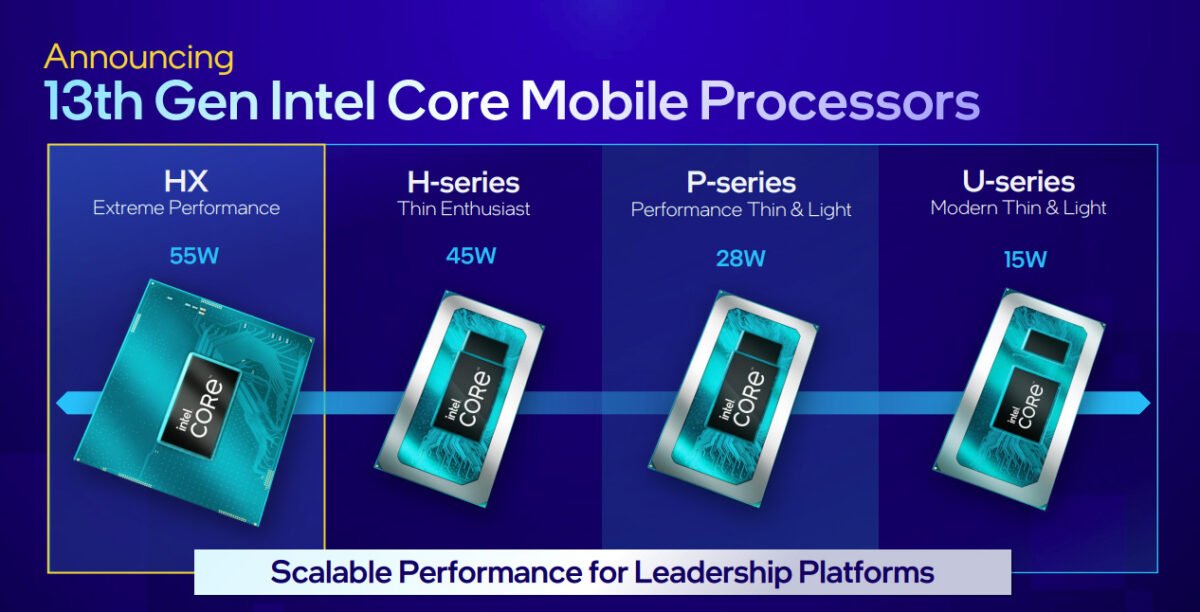 The HX series processors will come equipped with integrated graphics featuring 32 EUs, they offer support for DDR5 5600 and DDR4 4800 memory, and they have a base power rating of 55 W, and a max turbo power of 157 W.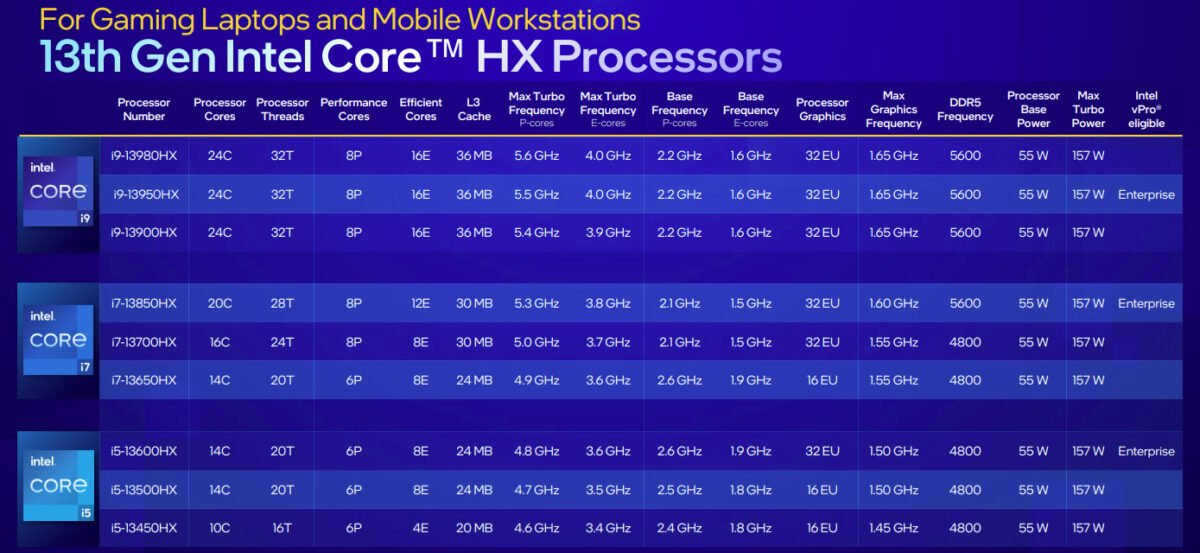 Mobile H-Series: Enthusiast Laptops
The Raptor Lake H lineup will have 11 SKUs in total, with a core count of up to 14 cores / 20 threads on the flagship Core i9-13900HK, which has a boost clock of 5.4 GHz. These processors have a 45W base power and up to 115W max turbo power on both the Core i9 and Core i7 processors. They come equipped with integrated graphics of up to 96 EUs.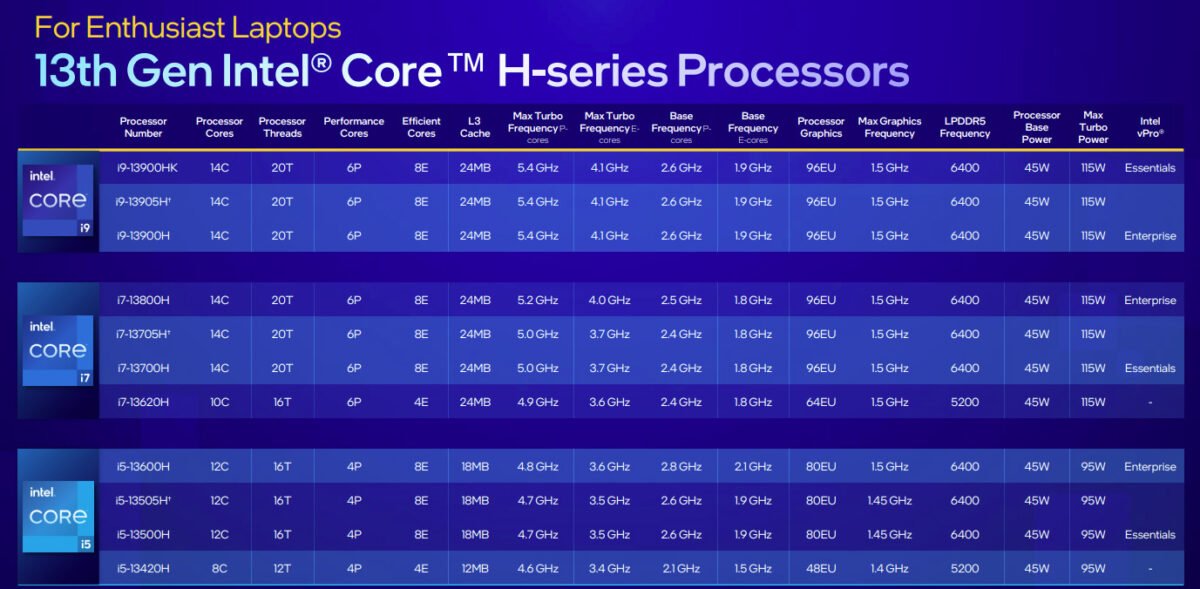 Mobile P & U-Series: Thin, Light Laptops
The Raptor Lake P series will feature four SKUs, with core counts up to 14 cores, rated at 28W base power operation, while the U series offer 8 SKUs, with up to 10 cores and a base power of 15W. Both will be aimed at thin and light laptops with the P series offering more performance.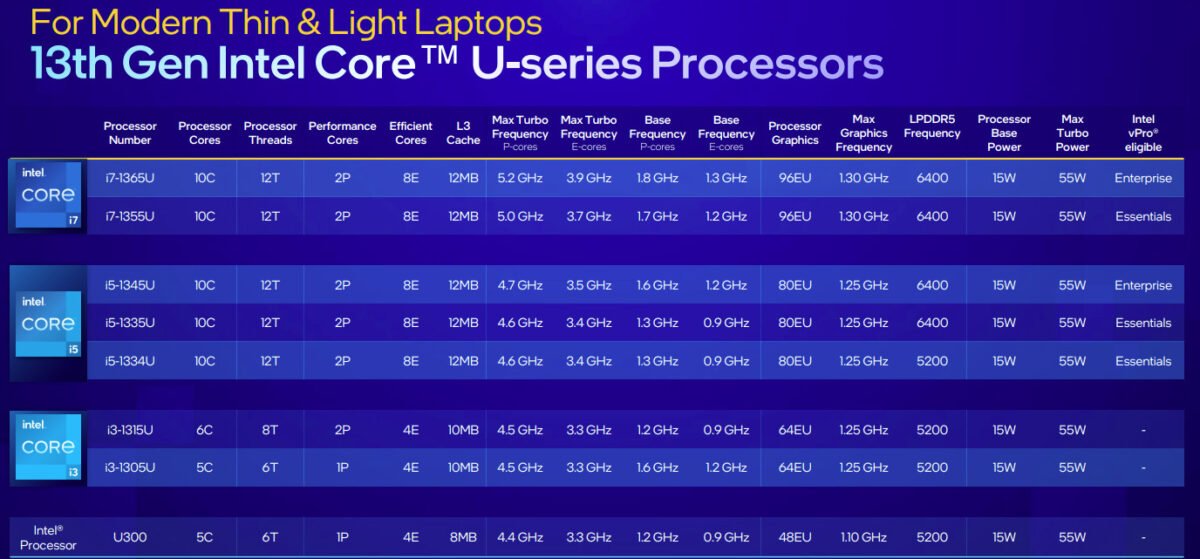 N-Series: Entry Level Laptop / Desktop
Lastly Intel unveiled the N series, which is the successor to Intel's Celeron/Pentium CPUs. Based entirely on Efficient-Cores, the N-series processors consume as low as 6W of power, and they're aimed at entry-level notebooks and desktops.