Back in August, a rumor from Angstronomics alleged that the specifications of the AMD Navi 3X GPU series did not change since 2020. The website also alleged the final specifications of each of AMD's Navi 3X GPUs, including max core counts, code names, and infinity cache sizes to name a few.
It seems that Angstronomics alleged specs were indeed correct, at least regarding the peak core counts, as a new leak coming directly from AMD after an update to the ROCm software discovered by Twitter user Kepler confirmed the peak computing core counts for the RDNA 3.0 architecture based GPU series.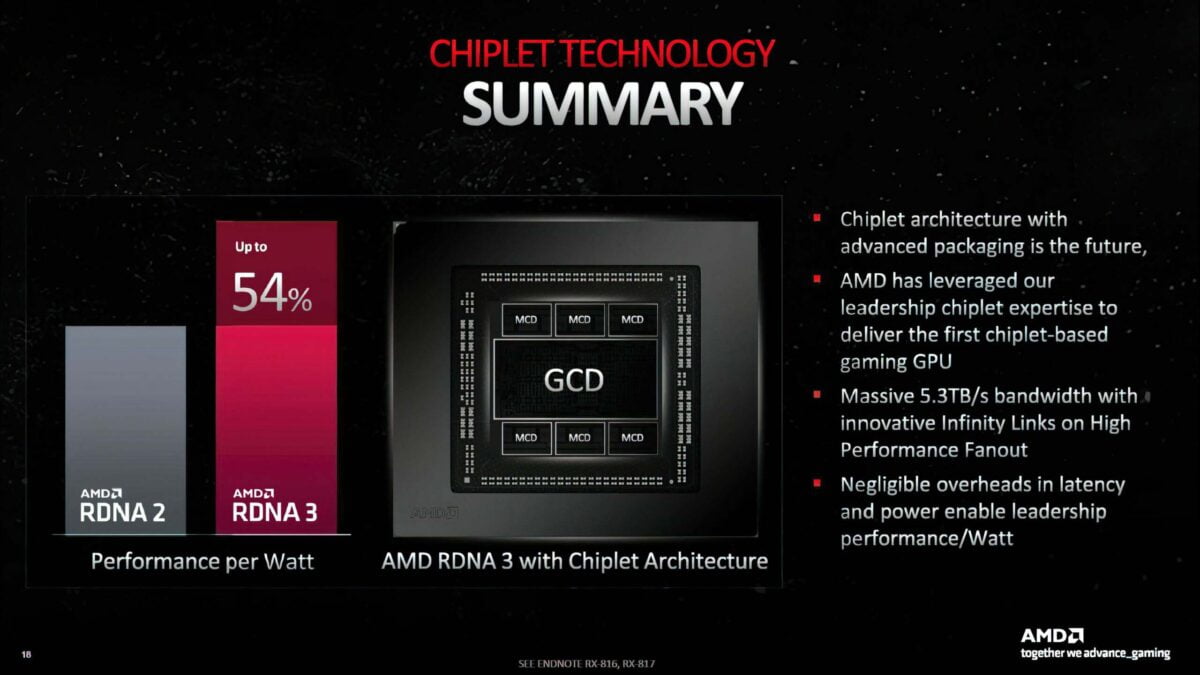 RDNA is AMD's GPU microarchitecture featured for the first time on the Radeon RX 5000 series that launched back in 2019, whereas Navi is the codename for the GPU series utilizing the RDNA architecture, and once again the Navi GPUs have been exclusively used in the RX 5000 series, expanded to the RX 6000 series in 2020, and will power AMD's upcoming RX 7000 series launching in December.
Core Counts For RDNA 3.0 Based GPUs
The RX 7000 series will consist of the Navi 31 GPU powering AMD's upcoming flagship graphic cards the Radeon RX 7900 XT and Radeon RX 7900 XTX, Navi 32 will power the Radeon RX 7800 XT, whereas the Navi 33 GPU will be featured in the Radeon RX 7700 XT.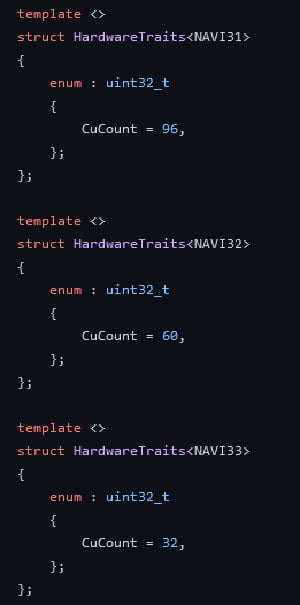 The leak discovered by Kepler confirms the core counts to be as follows:
Navi 31 GPU has 96 Compute Units
Navi 32 GPU has 60 Compute Units
Navi 33 GPU has 32 Compute Units
Navi 31 GPU
Navi 32 GPU
Navi 33 GPU
Microarchitecture
RDNA 3.0
RDNA 3.0
RDNA 3.0
Manufacturing Process
TSMC N5/N6
TSMC N5/N6
TSMC N5/N6
Codename
"Plum Bonito"
"Wheat Nas"
"Hotpink Bonefish"
GPU Package
Multi-Chip-Module (MCM)
Multi-Chip-Module (MCM)
Monolithic
Chiplet Configuration
1x GCD + 6x MCD
1x GCD + 4x MCD
–
Transistor Count
58B
TBC
TBC
Shader Units
6
3
2
Shader Arrays
12
6
4
RDNA Workgroups (WGP)
48
30
16
Compute Units
96
60
32
Stream Processors
6144
3840
2048
Memory
GDDR6
GDDR6
GDDR6
Bandwidth
960 GB/s
640 GB/s
320 GB/s
Bus Width
384-bit
256-bit
128-bit
Release Date
December 2022
TBC
TBC
SKUs
RX 7900 XT
RX 7900 XTX
RX 7800 XT
RX 7700 XT
Rumored specs of AMD's upcoming RDNA 3.0 GPUs
AMD is all set to reveal and launch the remaining RDNA 3.0 based GPUs at CES 2023 in January, and considering all the launches that are scheduled to go during the event it's shaping up to be a very busy one for technology and hardware enthusiasts.
Sources: Angstronomics, Kepler