AMD has previously confirmed that its upcoming next-gen mobile processors 'Ryzen 7000' will consist of different models using different micro-architectures in the same series, which will be marketed to different consumer segments.
While the high-end Ryzen 7000 mobile series will be based on the Zen 4 architecture, some models will be a refresh of previous Zen 3+, Zen3, and Zen 2. The same holds true for the iGPU as well, with different models utilizing RDNA 3, RDNA 2, and even RX Vega.
So far AMD has not publicly listed its refreshed Zen 3 based Ryzen 7000 mobile processors, but some users discovered a document covering a vulnerability for Specter Variant 2 attacks, with AMD officially listing the Ryzen 7030 and Ryzen PRO 7030 mobile series among the affected products.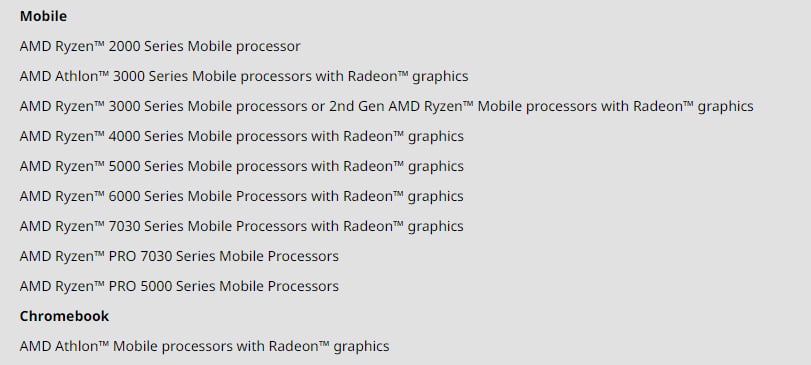 Third Digit Indicates The Architecture
Part of why this naming scheme is confusing, is that the third digit in the name will now indicate the architecture from Zen 1 to Zen 4 and beyond in the future, where in the past the third digit used to indicate the Ryzen PRO model.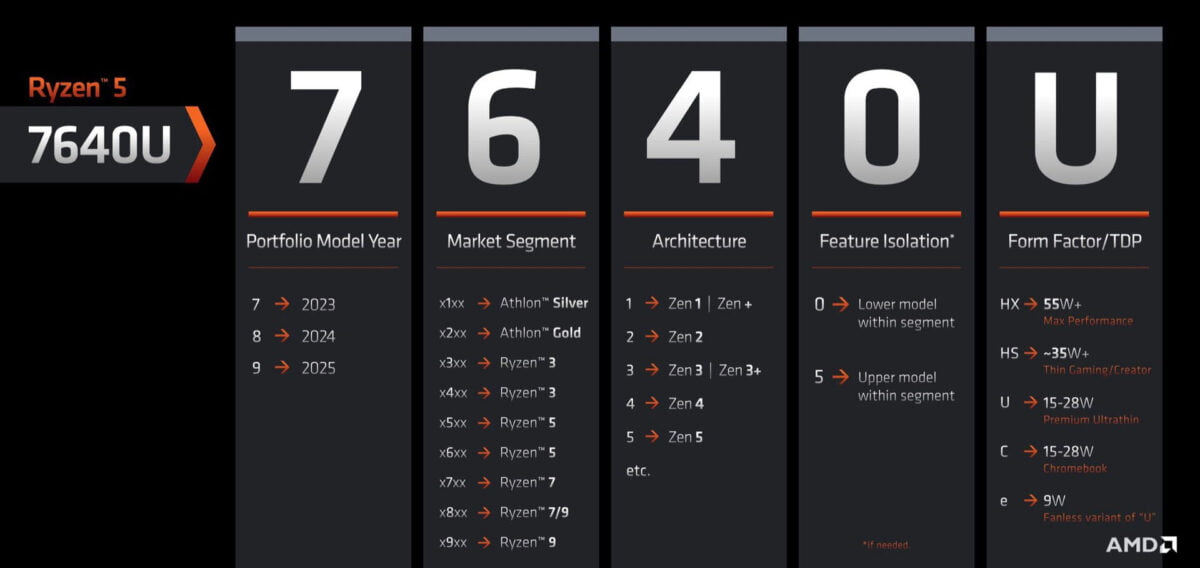 The high-end Ryzen 7040 series which include Dragon Range HX and Phoenix HS processors will use the latest Zen 4 and RDNA 3 architectures, Ryzen 7035 series will be a 'Rembrandt' refresh and will use Zen3+ cores and RDNA 2.
The Ryzen 7030 series will be a 'Barcelo' refresh with Zen 3 and the older RX Vega iGPU, and finally the entry-level segment Ryzen 7020 processors will use Zen 2 cores and RDNA 2 for graphics architecture, in fact AMD's official website currently lists the Ryzen 5 7520U and Ryzen 3 7320U as part of the upcoming Ryzen 7000 mobile series.
The AMD Ryzen 7030 series will include the Ryzen 7 7730U, Ryzen 5 7530U, and Ryzen 3 7330U, with core counts of 8-cores, 6-cores, and 4-cores respectively and a max boost clock of 4.5 GHz. These processors are expected to feature 8 RX Vega core clusters.
Source: AMD