The previous rumors about the pricing of Nvidia's upcoming GeForce RTX 4070 Ti graphics card turned out to be true, thanks to VideoCardz.com, we now have a confirmation that the RTX 4070 Ti will indeed cost $799. This makes it $100 cheaper than the canceled RTX 4080 12GB, and $400 cheaper than the current RTX 4080 16GB.
Nvidia is all set to unveil the third Ada desktop graphics card in just a few hours during their CES 2023 announcement, but VideoCardz shared an official slide from Nvidia's presentation containing the $799 price.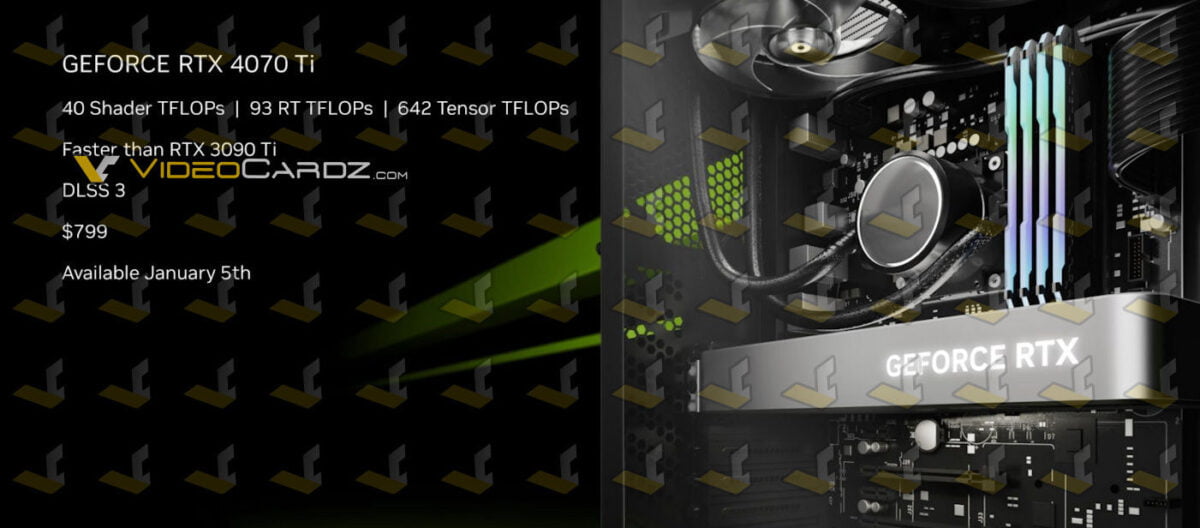 The RTX 4070 Ti will have FP32 performance of 40 TFLOPs, and according to Nvidia it will be faster than last gen Ampere flagship the RTX 3090 Ti.
After today's unveiling at 8:00 A.M. Pacific Time (4:00  P.M. GMT / UTC), Nvidia will lift the embargo and independent reviewers will start publishing their reviews for the card, before it gets officially launched on January 5th by AIB partners (There will be no Founders Edition for the GeForce RTX 4070 Ti).
Nvidia 'accidentally' leaked the performance for the RTX 4070 Ti on the official website for a very brief time, but @momomo_us managed to capture it before Nvidia decided to delete this section.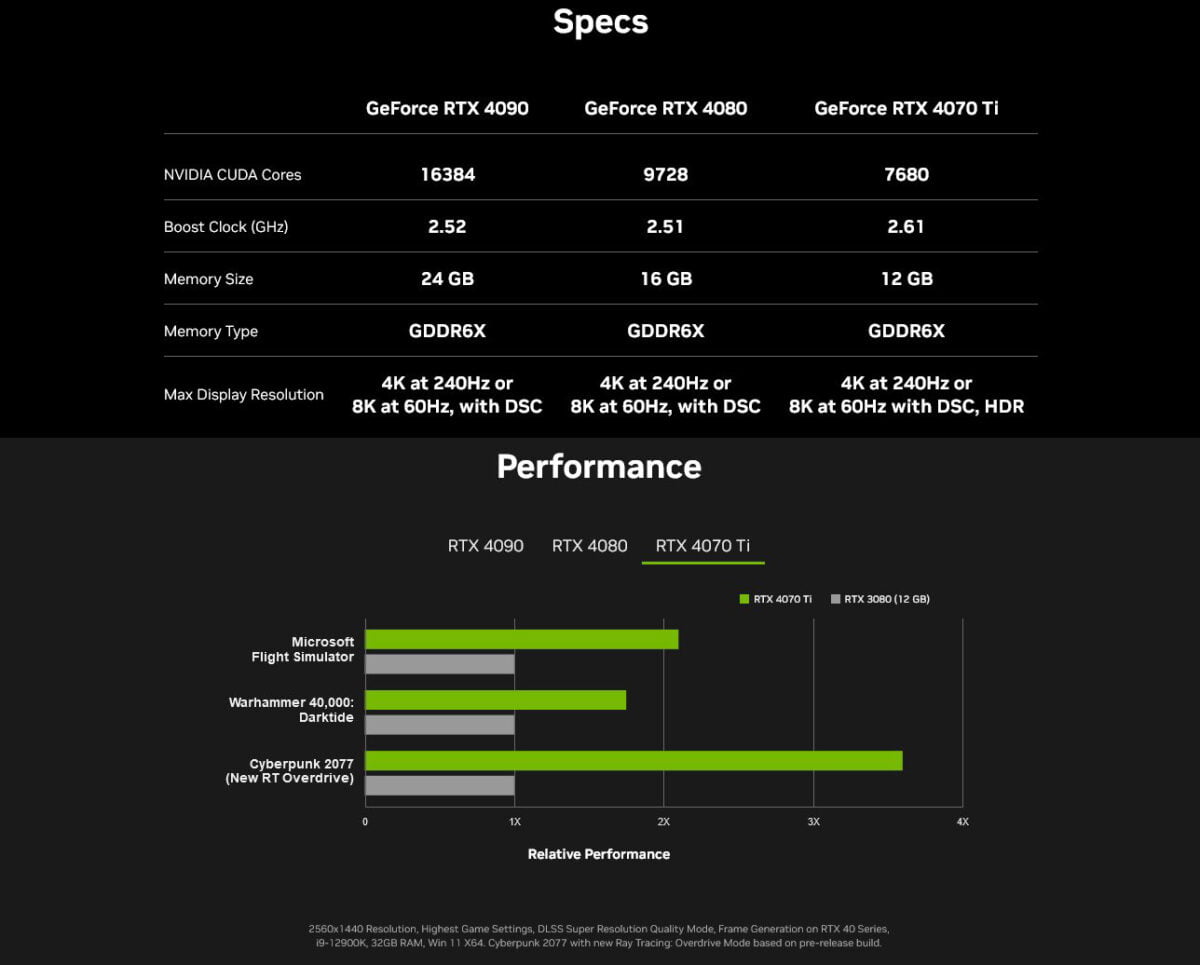 The GeForce RTX 4070 Ti is based on the 'Ada Lovelace' architectures, and it has the same specs as the canceled RTX 4080 12GB, powered by the AD104 GPU featuring 7680 CUDA cores and 12.0 GB of GDDR6X memory at 192-bit bus width.
Just like the RTX 4090 and RTX 4080, the RTX 4070 Ti comes equipped with third-gen RT Cores, and fourth-gen Tensor Cores, and offers support for DLSS 3 upscaling technology.
| Graphics Card | RTX 4090 | RTX 4080 | RTX 4070 Ti |
| --- | --- | --- | --- |
| Architecture | Ada Lovelace | Ada Lovelace | Ada Lovelace |
| Process | TSMC-4N | TSMC-4N | TSMC-4N |
| GPU | AD102 | AD103 | AD104 |
| SKU | PG136-SKU330 | PG136-SKU360 | PG141-SKU331 |
| CUDA Cores | 16384 | 9728 | 7680 |
| SMs | 128 | 76 | 60 |
| Max Clock | 2.5 GHz | 2.5 GHz | 2.6 GHz |
| Memory | 24 GB | 16 GB | 12 GB |
| Bus Width | 384-bit | 256-bit | 192-bit |
| Memory Speed | 21 Gbps | 23 Gbps | 21 Gbps |
| Total Bandwidth | 1 TB/s | 736 GB/s | 504 GB/s |
| TGP | 450W | 320W | 285W |
| Launch Date | Oct 2022 | Nov 2022 | Jan 5th 2023 |
| MSRP (USD) | $1599 | 1199 | $799 |
RTX 4090, 4080, and 4070 Ti Specs
Source: VideoCardz.com