While we're waiting for an official launch date for the rest of Intel Arc Alchemist GPU lineup, the ASRock Challenger Arc A380 listing is now available for preorder at Newegg.
Intel Arc A380 Shows up on Newegg, Available for Pre-order in the US
The ASRock Challenger A380 will go on sale on August 22nd, for a $139.99. While the Gunnir's Photon design is a dual fan, the ASRock Challenger model is a custom design, featuring a single fan.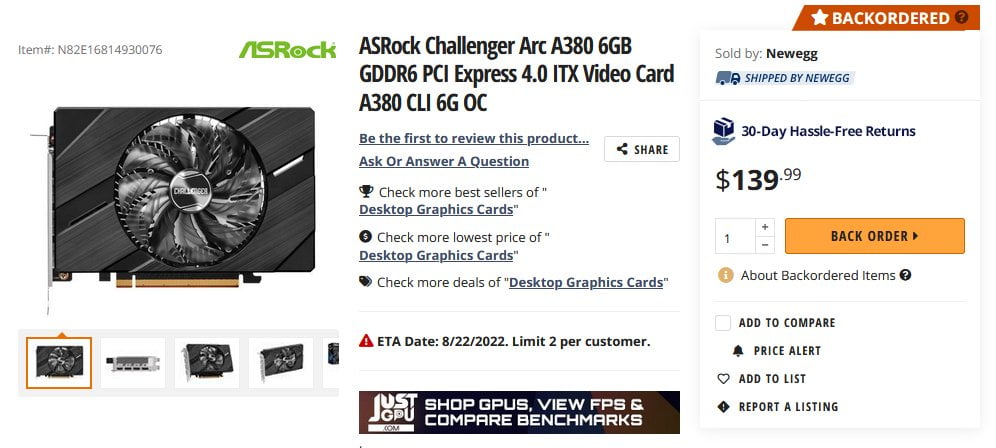 The A380 Challenger offers a 6GB 96-Bit GDDR6 memory, and comes with a core clock of 2250 MHz, the card also comes with four display ports in total, three of them are DisplayPort 2.0, and one HDMI 2.0b. The A380 is a budget entry level model, competing against the RX6400 / RX6500, but at $139.99, the A380 offers decent value considering that it undercuts the RX6400.
Perhaps the most exciting thing about the A380, is the AV1 encoding support, and with hardware encoding being limited at the moment, the Arc A380 will definitely appeal to a lot of gamers who also stream and prefer the AV1 codec, but with Intel being the new kid on the block in the GPU market, drivers are a concern at the moment, but Intel seems to be working hard to fix bugs and improve stability.