In one of the latest videos by RedGamingTech, the hardware leaker shared an allegedly leaked roadmap for Intel Arc desktop discrete graphics cards, with planned updates on a timeline that extends till the end of 2024.
The roadmap reveals the already released Arc Alchemist lineup with 5 SKUs, and 2 more coming at the end of Q1 2023, namely the ACM SKU4 (D23-P5), and ACM SKU5 (D23-M3) targeting the upper mainstream / performance segment, and both featuring 6 GB of memory and 15 W TEDP.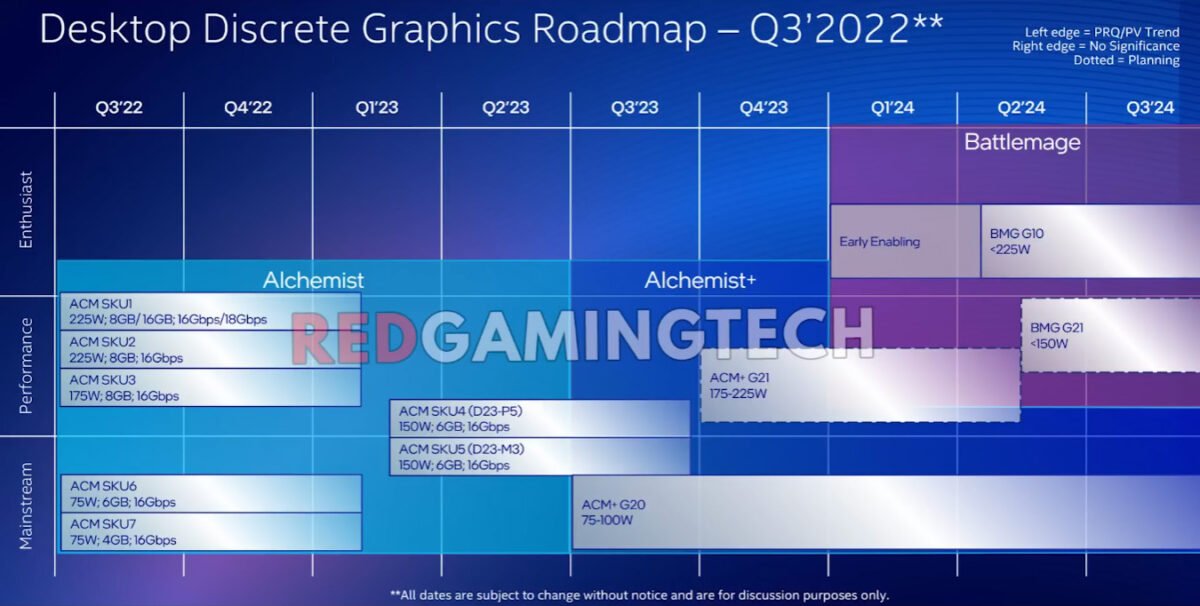 Also judging from the specs on the ACM SKU3, this is the yet to be released Arc A580 which does indeed have a 175 W TDP and 8 GB of memory. The A580 was recently registered on the EEC by ASRock, yet we have no information regarding its release date.
Alchemist+ Refresh: Q3 2023
The Alchemist+ which is essentially a refresh of the current Alchemist lineup of SKUs, with no major architectural changes, the Alchemist+ will only offer more of the same, albeit more efficiently, i.e. expected higher clocks. According to this roadmap Intel is still looking to target the mainstream and performance segments with the Alchemist+ refresh.
Battlemage : Q1 / Q2 2024
While Alchemist+ will only be a refresh, Intel is looking to break through the enthusiast segment and shake things up with the release of Arc Battlemage, the successor to Arc Alchemist, and according to the roadmap, Battlemage is supposed to arrive early 2024, and likely around that time Nvidia and AMD will be close to launching RTX 50 / RDNA 4 GPUs.

Unlike Alchemist+, Arc Battlemage will bring architectural improvements by introducing the next gen of Xe graphics architecture 'Intel Xe2 HPG' bringing along with it better Ray Tracing performance and next gen memory systems and compression, with allegedly a much bigger cache system according to RedGamingTech's sources.
Intel has already confirmed plans to release Arc Battlemage as a successor to Alchemist, with Arc Celestial, and Arc Druid to follow according to the company's official roadmap.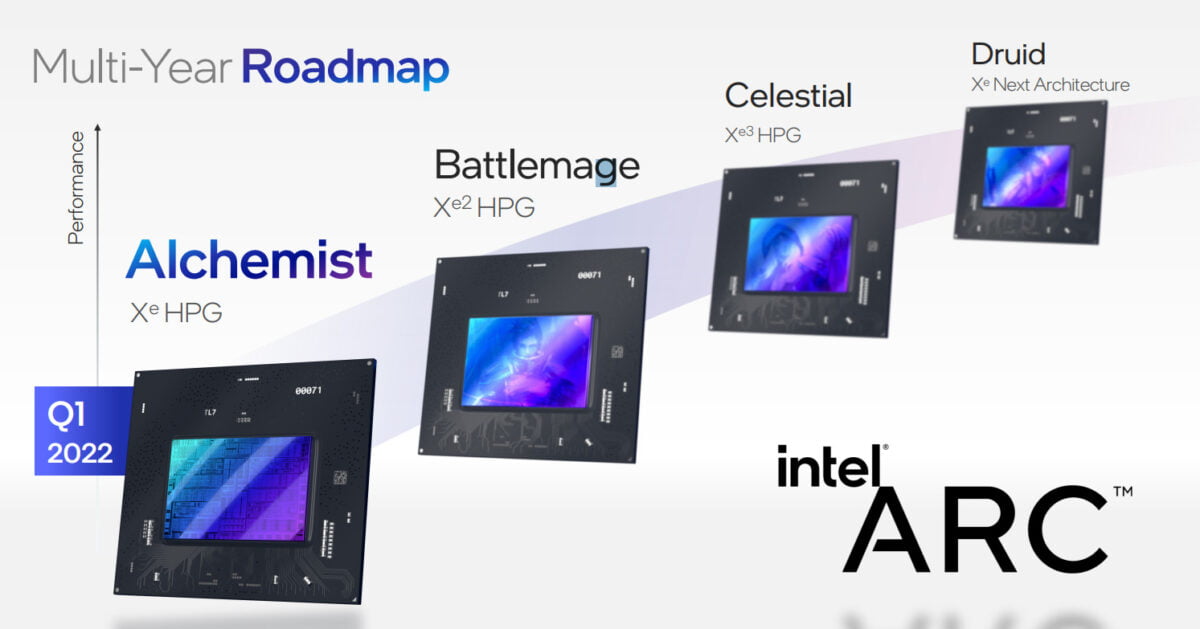 When Intel first announced their entry into the discrete graphics card market, many hoped the company will take the fight to both AMD and Nvidia, resulting in more competition, and ultimately more variety and more affordability for the consumers.
Of course such feat is not without complications, the graphics card market has very high barriers to entry, with AMD (ever since it acquired ATI) and Nvidia having massive grounds on Intel and duopoly on the market itself, thanks to decades of consistently releasing discrete GPUs and perfecting gaming drivers.
But if any company would dare enter this market and succeed, you wouldn't bet against Intel, in fact one would think this is the natural path for the company to take, since the tech giant has already been doing integrated graphics and their drivers on their Core processors for decades, not to mention the massive R&D budget Intel has that could help cover grounds against AMD / Nvidia.
While the current flagship A770 isn't exactly setting the world on fire in terms of performance, no one expected it to directly compete at the top, as Intel set the expectations from the beginning that it is targeting mainstream and performance segments. There are still positives however, as the A770 offers decent performance, Ray Tracing capabilities, and XeSS AI upscaling support.
In fact when Arc Alchemist released it was the only GPU series on the market to offer AV1 hardware accelerated video encoding before AMD and Nvidia added AV1 support to Ada and RDNA 3.
Intel is still working on improving its drivers, as evident by the company just recently having a major breakthrough in DX9 performance, which suggests there is still yet more performance headroom to gain, but it's not going to happen overnight.
At the very least, the above roadmap shows that the company is committed to staying in the GPU market for a couple more years, and having a third major player can really drive the competition to benefit consumers, especially now more than ever where it looks like both Nvidia and AMD have abandoned the mainstream and budget segments.
Source: RedGamingTech.