This is not the first time that an alleged score for a Mac running Apple's upcoming M2 Max chip shows up on Geekbench website, last month Geekbench database showed the results of a Mac with an identifier 'Mac14,6' running the 12 core M2 Max processor, with a score of 1,853 and 13,855 in single-core and multi-core respectively.
The scores were underwhelming compared to Mac devices running Apple's M1 Max chip, which has a score of 1,755 for single-core and 12335 in multi-core.
Now another Geekbench database result showing new scores for the M2 Max chip, and this time with a bigger performance gap to its predecessor.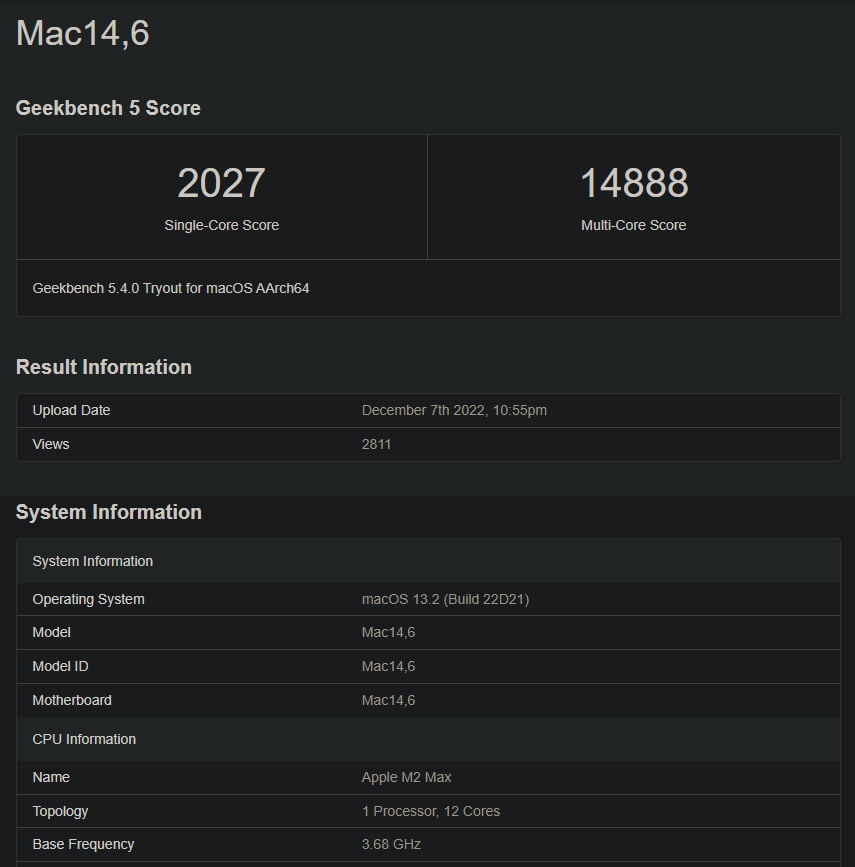 The result shows a 2,027 for single-core and 14,888 in multi-core scores, with the operating system being macOS 13.2 (macOS Ventura). the system also had 96GB of memory and the same identifier 'Mac14,6'. It is also worth noting that this time the the M2 Max chip was overclocked to 3.66 GHz compared to its default base clock speed of 3.54 GHz in the last Geekbench result.
The M2 Max chip is Apple's second generation and successor to the M1, which is an ARM-based system on a chip (SoC) intended for use in MacBooks and iPads, the M2 will be featuring a 12 core processor and 38 core GPU, and will be used in Apple's upcoming line of Macs expected to release early 2023.