As impressive as Nvidia's new 'Ada Lovelace' architecture may be when it comes to performance and especially power efficiency compared to 'Ampere', the prices of the Ada RTX 40 graphics card series went up astronomically compared to last gen RTX 30 GPU series.
The GeForce RTX 4080 launched with an MSRP of $1199, compared to last gen the RTX 3080 which launched during September of 2020 with an MSRP of $699, that is a whopping 71% increase in cost for the same GPU class, even when you factor in inflation over this time period this is still a pretty dramatic increase.
Consumers and members of the press have been critical of Nvidia's pricing, even AIB partners like MSI think the RTX 4080 price is bad, and no we're not paraphrasing here, this is literally what MSI said in a recent Tweet promoting the new GeForce RTX 4070 Ti.
The Tweet is now deleted, but 'Qualified Oucast' managed to save it first.
Like a towering pillar, the @NVIDIAGeForce 4070 Ti is now on sale at our MSI store! Experience the POWER of the Ada Lovelace architecture, at a cost of "not as bad as a 4080"!
Link: msi.page/3GL1UQx

MSI Gaming USA (@msiUSA)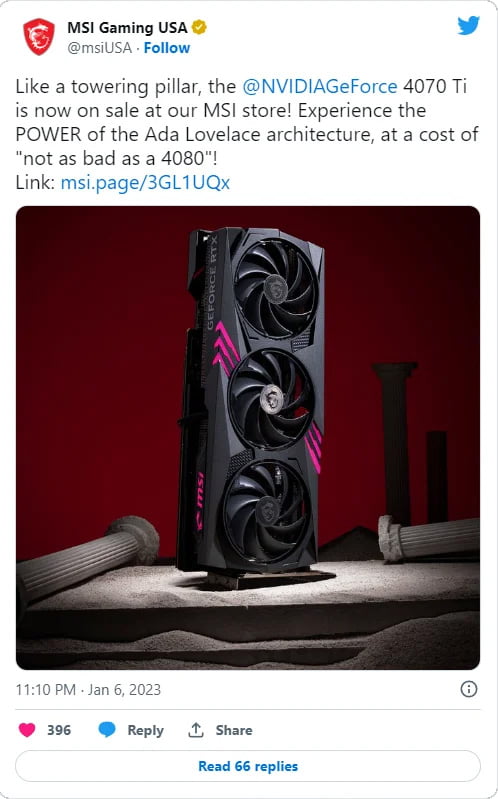 The cheapest MSI RTX 4070 Ti is the VENTUS 3X 12 GB model which is basically the reference Nvidia model with the default 2610 MHz boost clock, it is available in stock on both MSI shop and Newegg for $799, which is the MSRP set by Nvidia for the RTX 4070 Ti.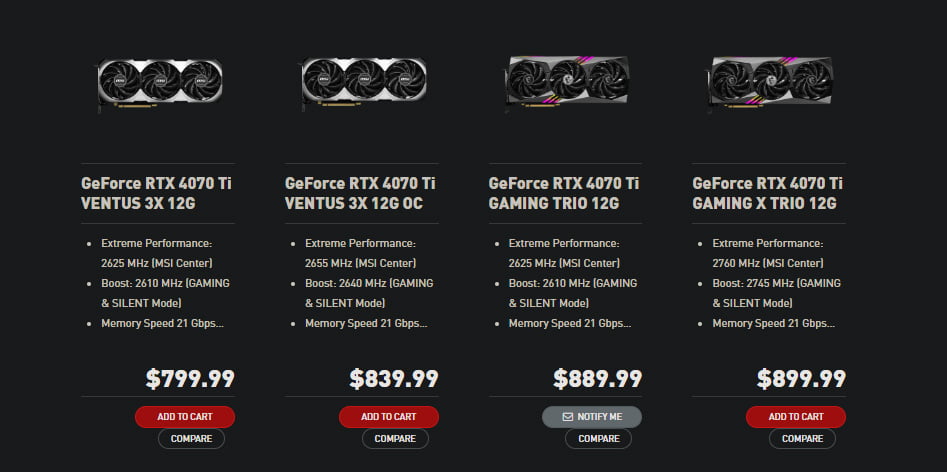 Meanwhile the GeForce RTX 4070 Ti SUPRIM X 12G which is highest clocked RTX 4070 Ti from MSI at 2775 MHz (2790 MHz with MSI Center) can be had for $899 on Newegg, which is the cheapest SUPRIM price compared to $975 on Amazon.