In more recent years Intel CPUs were often criticized -righty so- for consuming significantly more power to output the same levels of performance as their counterparts from AMD, which resulted in Intel Core CPUs falling behind when it comes to power efficiency / performance per Watt.
Looks like this is not going to be the case anymore, at least for the Core i5-13500 which is shaping up to be a very promising and well rounded chip from what we've seen so far.
New leak shows benchmarks posted on Bilibili, with yet another review of the Core i5-13500 ES2 / Core i5-13400 ES2 including the single and multi-threaded performance in CPU-Z and Cinebench R23, which we have seen before.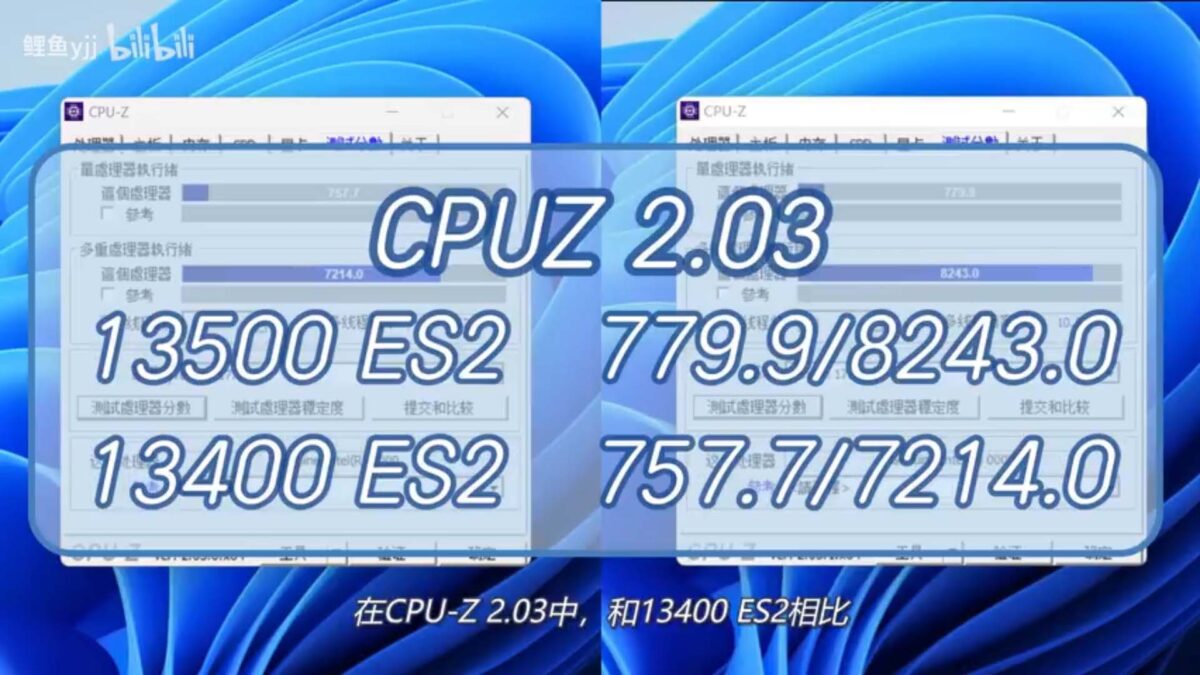 Processor
CPU-Z
ST
CPU-Z
MT
CB R23
ST
CB R23
MT
Core i5-13500 ES2
779.9
8243.0
1891
19850
Core i5-13400 ES2
757.7
7214.0
1817
17595
But this time we get to see a more detailed review of the power consumption while idling, and while running these benchmarks for the Core i5-13500.
The core i5-13500 manages to achieve very impressive power efficiency, especially while under load running the multi-core render test of Cinebench R23.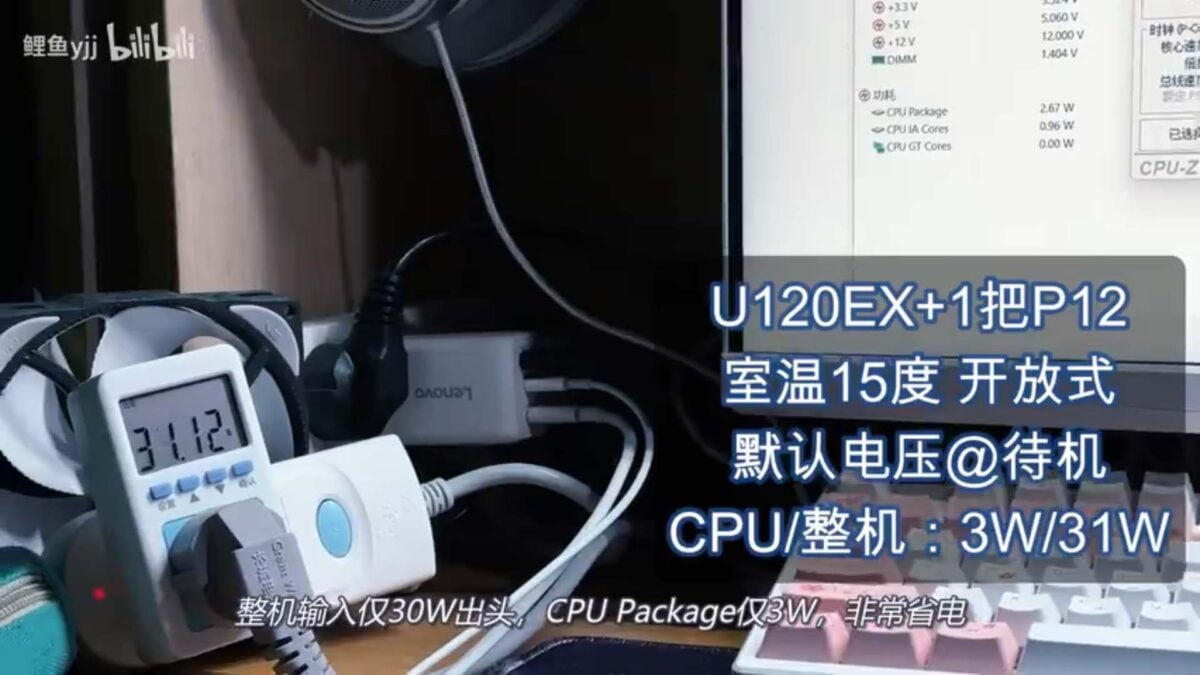 While idling, the Core i5-13500 CPU package consumes just 3W, with the total system consumption measuring 31W. And while running the Cinebench R23 multi-core render test, the CPU package power consumption measures a 120W, with the total system power coming to 178W.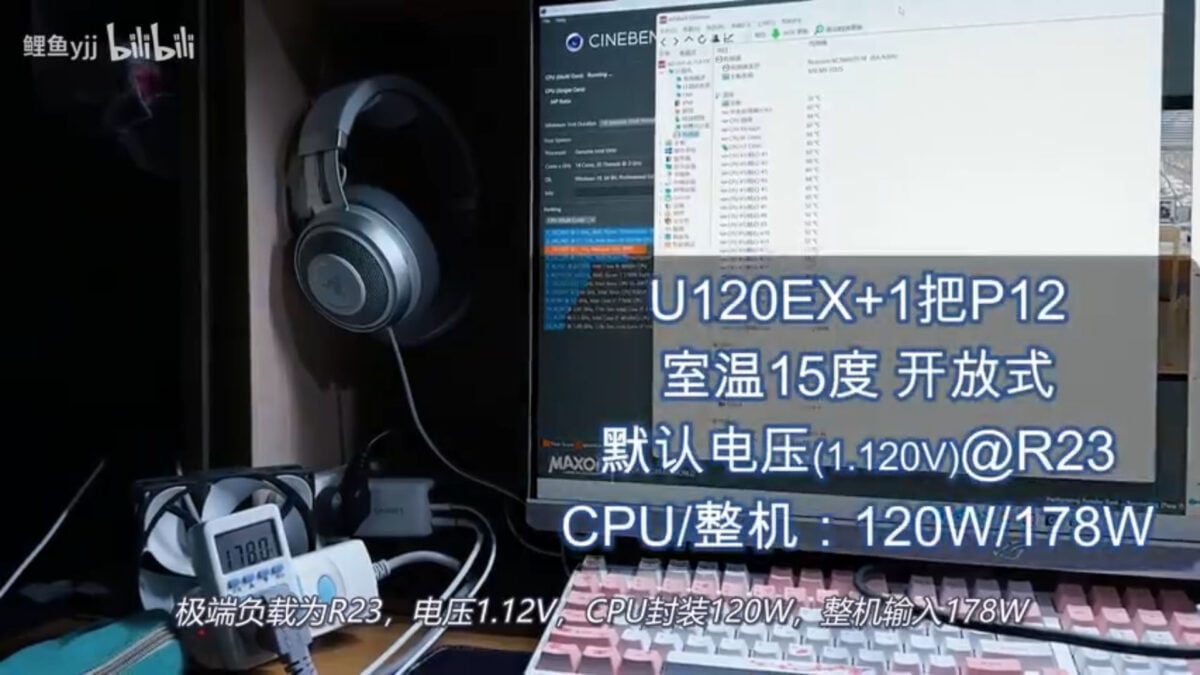 The reviewer even went the extra mile to under-volt the CPU and bring the CPU package power consumption to 105W while running the Cinebench test without any stability issues.
Granted Cinebench is not a stress test by any means, especially compared to AIDA64, or Prime95, however, it still puts the CPU through its paces while running the multi-threaded rendering test and manages to push power draw to the limits.
Core i5-13500ES
Idle
CPU Only
Idle
System
CB R23
CPU
CB R23
System
Power Consumed
3W
31W
120W
178W
Power Consumption Summary
Considering Intel's tendency in recent years to squeeze out CPU performance at the cost of sacrificing power efficiency, for a 16 core CPU from the blue camp to idle at just 3W and consume 120W max at full multi-threaded load is certainly impressive.
Of course Looking at numbers in a vacuum doesn't mean much. So let's put these numbers into context to get a better idea on where they stand.
Analysis
Let's compare these numbers against the newly released Zen 4 based Ryzen 7700X, which is known for being an efficient chip when it comes to power consumption.
In fact you could argue the whole Ryzen 7000 and Zen 4 architecture is centered primarily around power efficiency.
But why the 7700X you say? Well, it turns out the Core i5-13500 ES and Ryzen 7700X are very close in terms of single and multi-threaded performance in both CPU-Z and Cinebench R23. Here are a couple of benchmark scores:
| Ryzen 7700X | CPU-Z ST | CPU-Z MT | CB R23 ST | CB R23 MT |
| --- | --- | --- | --- | --- |
| Notebookcheck | 768.8 | 7933 | 1986 | 19509 |
| guru3d | 771 | 7893 | 1997 | 19575 |
There are many more reviews for the Ryzen 7700X that show CPU-Z and Cinebench R23 scores, but they all tell you the same story, on average the Core i5-13500 and Ryzen 7700X look to be very closely matched in ST and MT scores.
Now when it comes to measuring power consumption, the majority of reviews measure the total system power draw, and if you were to go on that for the comparison, you'd find that on average, while running the Cinebench R23 multi-core test, the Core i5-13500 system consumes between 20-40W less than the Ryzen 7700X depending on the review. Here are a few examples from: Notebookcheck, PCMag, guru3d.
However, I don't like comparing total system power draw, even though Cinebench shouldn't involve the GPU, there are just too many variables that make the comparison inaccurate. Even a mouse or keyboard these days with all the RGB effects could add an additional 10W of power draw to the system, which is not insignificant.
Instead it is better to compare the power draw of the CPU only while under load to get a more accurate comparison. Here's a couple of examples from Techpowerup, and PCGamer.

According to the above charts, when it comes to CPU power only, the Core i5-13500 ES consumes ~15W less than Ryzen 7700X while running MT workloads (Specifically Cinebench).
Whichever way you slice it, the core i5-13500 ES and Ryzen 7700X achieve very similar benchmark results, but the Core i5-13500 ES is slightly more power efficient while doing the same MT work, and is going to cost significantly less.
Summary
At the time of writing this article, the Ryzen 7700X has an official MSRP of $399, but can be had for around $350 after recent price cuts (Prices are supposedly going back to MSRP again.)
What can be summarized from all the data and benchmarks above is that:
The Core i5-13500 is on par with Ryzen 7700X in single and multi-threaded performance, it is going to cost nearly $100 less from recent price leaks, and interestingly, it does so while being slightly more power efficient in multi-threaded work than the 7700X.

The core i5-13400 is not far off, roughly around 3% in ST and 11% in MT behind, and going to cost even less (Especially Core i5-13400F which is going to cost around $213)
Intel to Focus on Power Efficiency Going Forward
When Intel first introduced the concept of efficiency cores, some saw the potential and advantages of the hybrid architecture design, especially if Intel were to iron out the thread scheduling issues that accompanied the launch of Alder Lake. But others called it a gamble, a gimmick, and some even called the efficiency cores flat-out useless.
Yet here we are, not only does the Core i5-13500 manage to make a massive generational leap over its predecessor the Core i5-12500 in multi-threaded performance, but it apparently does so while achieving better power efficiency compared to previous Intel Core processors and even current similar offerings from AMD.
And from the recent rumors we have seen so far, looks like Intel is going full steam ahead aboard the power efficiency train, doubling down on E-cores even more in next generations 'Meteor Lake' and 'Arow Lake' CPUs.

Intel's upcoming 14th gen 'Meteor Lake' is rumored to focus on power efficiency, improving on Raptor Lake across the board while consuming less power, with configurations allowing for up to 6 P-cores (Redwood) + 16 E-cores (Crestmont).
Considerations to take into account:
The benchmarks done used the Core i5-13500 ES2, which is an engineering sample, and the performance of the finalized product can and probably will differ.
While synthetic benchmarks are a good indicator and measurement of a system, they don't always correlate the same way in real world application and gaming scenarios.
Source: Bilibili