We have already seen the performance and capabilities of Nvidia's Ada Lovelace powered desktop GPUs, with the RTX 4090 being in a class of its own as the fastest graphics card on the planet at the moment.
And It looks like Nvidia RTX 40 Mobile series carry the same impressive performance to laptops as well, with new leaks showing the RTX 4090 Mobile obliterating the entire Ampere RTX 30 Mobile, it even manages to beat the desktop RTX 3090 graphics card as well.
RTX 4090 Mobile
The RTX 4090 Mobile GPU was spotted on Geekbench alongside the 24-core Intel Core i9-13900HX processor, both used in an undisclosed high-end notebook which has the designation 'X370SNx' as its name.
The Geekbench entry also shows the RTX 4090 Mobile having 76 SMs and 16.0 GB of GDDR6 memory, which are the exact same specs of the AD103 GPU powering the desktop RTX 4080.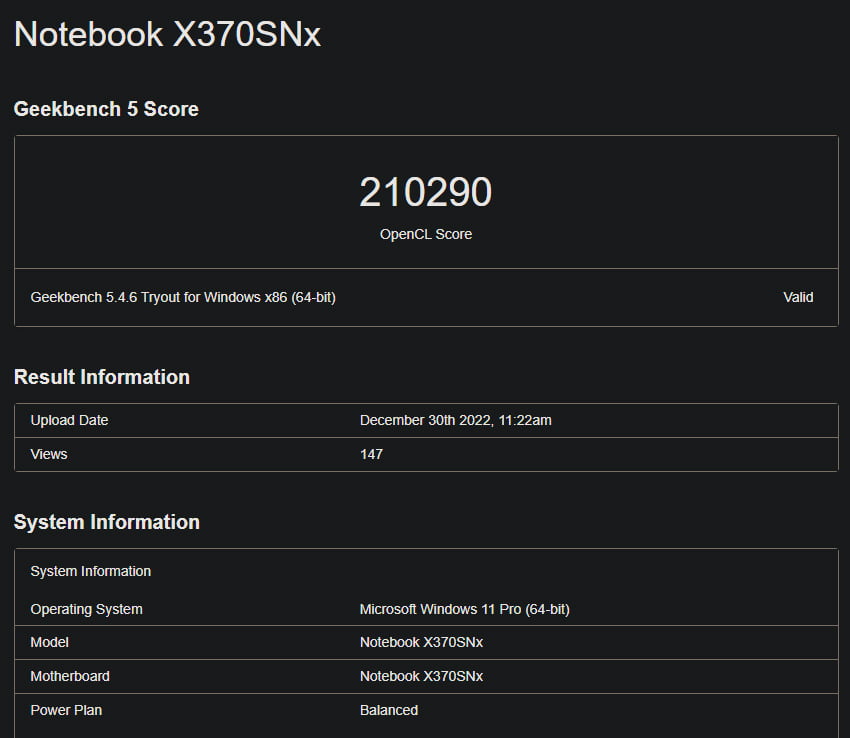 The RTX 4090M managed to score 210,290 points in the OpenCL test, which leaves every mobile GPU from Ampere in the dust, the closest being the the RTX 3080 Ti mobile GPU which has an OpenCL score of 136,008 in Geekbench's database, that makes the RTX 4090M faster than the best Ampere mobile GPU by 54.6%.
What's even more impressive is that, with the exception of the RTX 3090 Ti desktop GPU, this score makes the RTX 4090M faster than the entire RTX 30 desktop lineup including the RTX 3090 which has an OpenCL score of 204,921 points.
RTX 4080 Mobile
The RTX 4090M wasn't the only Ada mobile GPU spotted on Geekbench, its younger sibling the RTX 4080 mobile was also seen running the same OpenCL test alongside the Core i9-13900HX processor in Acer upcoming Predator 'PH16-71' laptop.
The RTX 4080 Laptop GPU features 58 SMs, 7424 CUDA cores, 12.0 GB of GDDR6 memory, and it is based on the AD104 die which is also used for the desktop RTX 4070 Ti.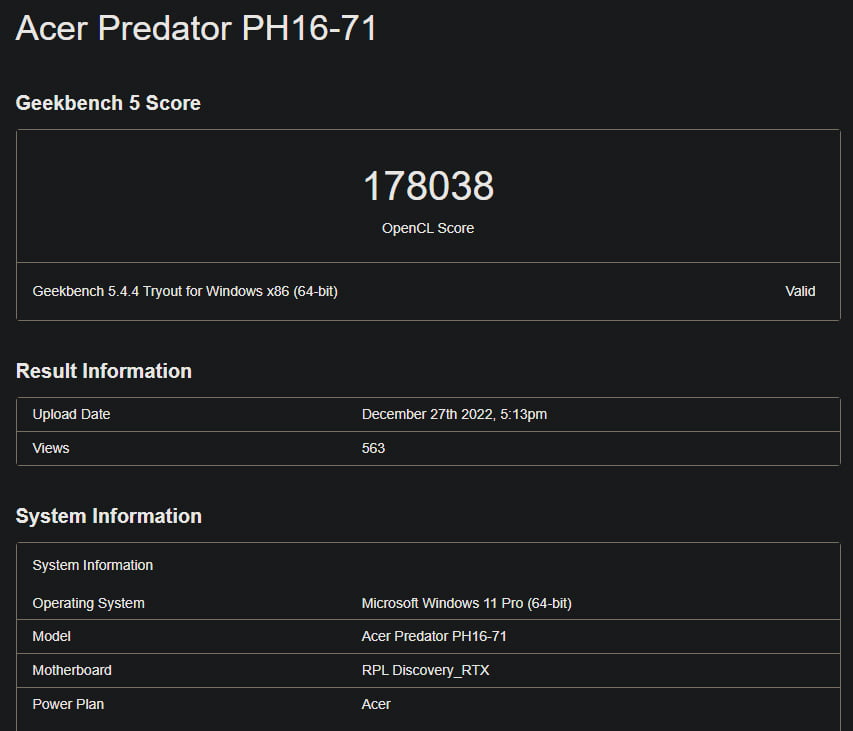 In the OpenCL test, the RTX 4080 Laptop GPU managed to score 178,038 points, which again beats the best Ampere mobile GPU the RTX 3080 Ti by 20%, this score also makes the RTX 4080 laptop GPU faster than the RTX 3080 by a whopping 41.9% according to Geekbench's database.
Nvidia is all set to officially launch the RTX 40 Mobile GPUs next week on January 3rd, alongside the desktop RTX 4070 Ti, with notebooks using the Ada chips expected to soon follow and arrive in Q1.
Graphics Card
RTX 4090
RTX 4080
RTX 4070
RTX 4060
RTX 4050
Architecture
Ada Lovelace
Ada Lovelace
Ada Lovelace
Ada Lovelace
Ada Lovelace
Process
TSMC-4N
TSMC-4N
TSMC-4N
TSMC-4N
TSMC-4N
GPU
AD103
AD104
AD106
AD107
AD107
SKU
GN21-X11
GN21-X9
GN21-X6
GN21-X4
GN21-X2
CUDA Cores
9728
7424
TBC
TBC
TBC
Base / Boost Clock
1.59 / 2.04 GHz
1.86 / 2.08 GHz
2.07 / 2.17 GHz
TBC
TBC
Memory
16 GB
GDDR6
12 GB
GDDR6
8.0 GB
GDDR6
8.0 GB
GDDR6
6.0 GB
GDDR6
TGP
150W
150W
115W
85W
85W
Dynamic Boost
25W
25W
25W
25W
25W
Nvidia RTX 40 Mobile Rumored Specs