AMD intends to launch the new Ryzen 7000 non-X Desktop CPU series next month, with 3 SKUs in total being planned to arrive on January 10th, namely the Ryzen 9 7900, Ryzen 7 7700, and Ryzen 5 7600.
These CPUs will be based on the Zen 4 architecture and will feature the same cores / threads as their X-series counterparts, however, they will operate at lower clocks and will have a 65W TDP.
We are still two weeks away from the official launch date, and as such there are no current reviews available for the upcoming non-X CPUs, but according to new leaked slides from VideoCardz.com, AMD claims that the Ryzen 9 7900 non-X CPU is faster than the Zen 3 based Ryzen 5900X in games by up to 34%.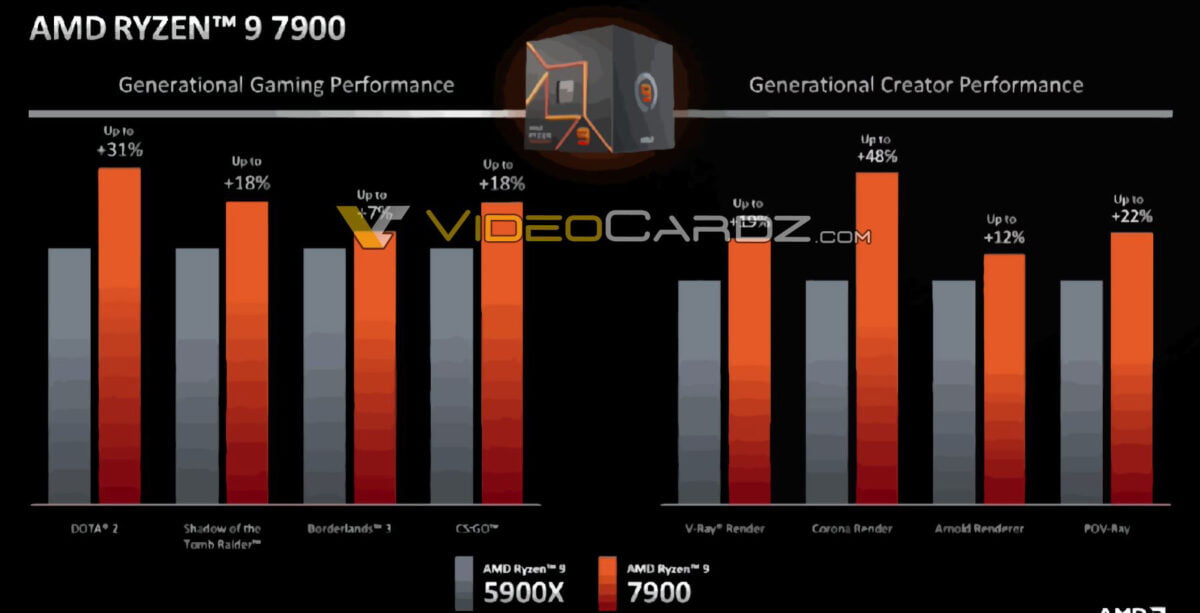 The 65W Ryzen 9 7900 and 105W Ryzen 9 5900X were both tested against each other across a wide range of games at 1080p resolution, they were both paired with the Sapphire Radeon RX 6950XT NITRO+.
The Ryzen 9 7900 came out on top in all 12 games tested with an average improvement of around 19% compared to previous gen 5900X. The biggest margin between the two CPUs was seen in Far Cry 6 with the Ryzen 7900 having a 34% performance gain over the 5900X, while the lowest was in Assassin's Creed : Valhala where the Ryzen 7900 only managed a 3% improvement. Here are the full results:
System
Ryzen 9 7900
DDR5 6000
Radeon RX 6950XT
Ryzen 9 5900X
DDR4 3600
Radeon RX 6950XT
Improvement
Assassin's Creed: Valhalla
197.0 FPS
191.0 FPS
3%
Borderlands 3
248.9 FPS
209.1 FPS
19%
CS:GO
603.6 FPS
516.0 FPS
17%
F1 2021
403.8 FPS
299.7 FPS
35%
Far Cry 6
176.3 FPS
131.6 FPS
34%
Fortnite
270.9 FPS
247.3 FPS
10%
League of Legends
387.4 FPS
349.6 FPS
11%
Metro Exodus
187.1 FPS
185.4 FPS
1%
Shadow of the Tomb Raider
283.8 FPS
224.6 FPS
26%
Strange Brigade
442.7 FPS
339.8 FPS
30%
Total War: Three Kingdoms Battle
256.1 FPS
198.8 FPS
29%
Worlds of Tanks Encode (1080p Ultra)
445.5 FPS
405.4 FPS
10%
Average:
19%
Ryzen 7000 Series Specs
The 19% average improvement in gaming compared to last gen is certainly impressive considering the fact that the Ryzen 7900 non-X is a 65W CPU as opposed to the 105W TDP of the 5900X.
Bear in mind that the newer Ryzen 9 7900 on the AM5 platform was paired with a 6000 MHz DDR5 memory as opposed to the 3600 MHz DDR4 memory paired with the Ryzen 9 5900X.

The Ryzen 9 7900 will be accompanied by its siblings, the Ryzen 7 7700 and Ryzen 5 7600 on the official launch, these CPUs will have a price tag of $429, $329, $229 respectively as revealed by AMD. Here's how the entire Ryzen 7000 Desktop CPU lineup is shaping up to be:
| Processor | Cores / Threads | Base Clock | Boost Clock | MSRP at Launch | Current Price |
| --- | --- | --- | --- | --- | --- |
| Ryzen 9 7950X | 16C / 32T | 4.5 GHz | 5.7 GHz | $699 | $568.99 |
| Ryzen 9 7900X | 12C / 24T | 4.7 GHz | 5.6 GHz | $549 | $439.99 |
| Ryzen 9 7900 | 12C / 24T | 3.7 GHz | 5.4 GHz | $429 | – |
| Ryzen 7 7700X | 8C / 16T | 4.5 GHz | 5.4 GHz | $399 | $349 |
| Ryzen 7 7700 | 8C / 16T | 3.8 GHz | 5.3 GHz | $329 | – |
| Ryzen 5 7600X | 6C / 12T | 4.7 GHz | 5.3 GHz | $299 | $238 |
| Ryzen 5 7600 | 6C / 12T | 3.8 GHz | 5.1 GHz | $229 | – |
Ryzen 7000 Series Specs
Source: VideoCardz.com