The Nvidia GeForce RTX 4070 Ti makes its first appearance on Geekbench, where it gets benchmarked using the OpenCL test, just one day after we got to see the first custom models from PNY.
According to the test result, the RTX 4070 Ti scored 214,654 points in Geekbench 5 OpenCL test, showing a marked improvement over last gen RTX 3070 Ti which has an OpenCL score of 147,200 points in Geekbench database, that's 1.45X or 45% faster than its predecessor.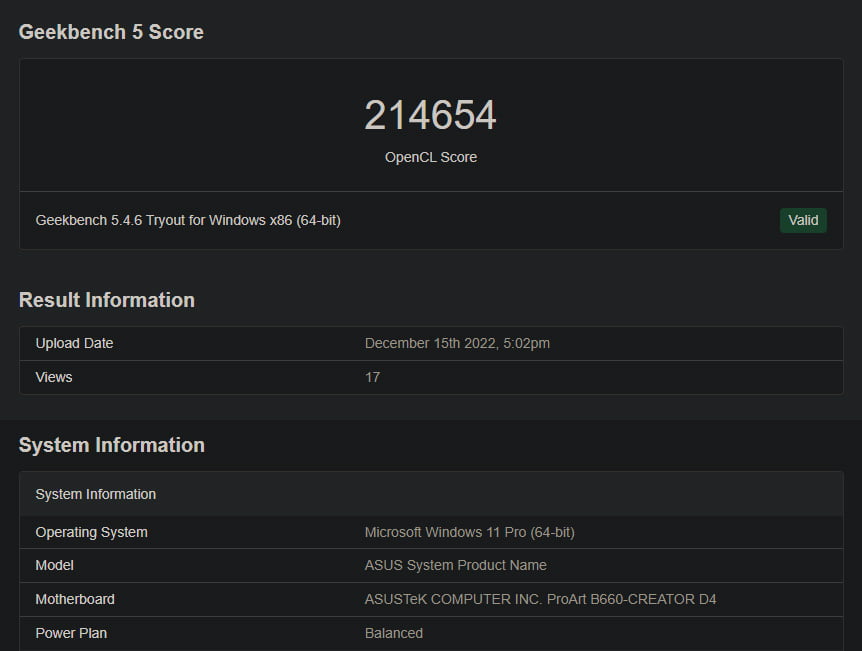 The RTX 4070 Ti featured in the Geekbench entry had a 12GB of memory, 60 Compute Units, and a maximum frequency of 2730 MHz, which is higher than the 2610 MHz boost clock frequency Nvidia revealed for the RTX 4080 12GB model (2610 MHz is also the same boost clock PNY revealed for their RTX 4070 Ti VERTO series).

Nvidia already canceled the RTX 4080 12GB model after facing backlash over the naming scheme which the company acknowledged was confusing, and now the tech giant is rebranding it as the RTX 4070 Ti, which makes more sense considering the vast differences in specs compared to the RTX 4080 16GB model.
The Ada Lovelace based RTX 4070 Ti will be based on AD104 GPU die and will be featuring 7680 CUDA cores, 12GB of GDDR6X memory at a 192-bit bus width, a base GPU clock speed of 2310 MHz, and boost clock speed of 2610 MHz. The RTX 4070 Ti is expected to launch in January, and all that remains to be seen now is its price tag.
| Graphics Card | RTX 4090 | RTX 4080 | RTX 4070 Ti |
| --- | --- | --- | --- |
| Architecture | Ada Lovelace | Ada Lovelace | Ada Lovelace |
| Process | TSMC-4N | TSMC-4N | TSMC-4N |
| GPU | AD102 | AD103 | AD104 |
| Memory | 24GB | 16GB | 12GB |
| Bus Width | 384-bit | 256-bit | 192-bit |
| Mem Speed | 21 Gbps | 23 Gbps | 21 Gbps |
| Total Bandwidth | 1 TB/s | 736 GB/s | 504 GB/s |
| TDP | 450W | 320W | 285W |
| Launch Date | Oct 2022 | Nov 2022 | Jan 2023 |
| MSRP | 1599 USD | 1199 USD | TBC |
RTX 4090, 4080, and 4070 Ti Specs
Source: Geekbench via BenchLeaks