Ever since Nvidia 'un-launched' the RTX 4080 12GB model after acknowledging that the naming scheme for this graphics card was confusing, we have been seeing a lot of rumors about the company rebranding the canceled graphics card and re-launching it as the RTX 4070 Ti.
We now have the full specifications for PNY RTX 4070 Ti upcoming custom models, thanks to a new exclusive leak reported by VideoCardz. PNY has two RTX 4070 Ti models in the pipeline, the RTX 4070 Ti VERTO and RTX 4070 Ti XLR8 VERTO.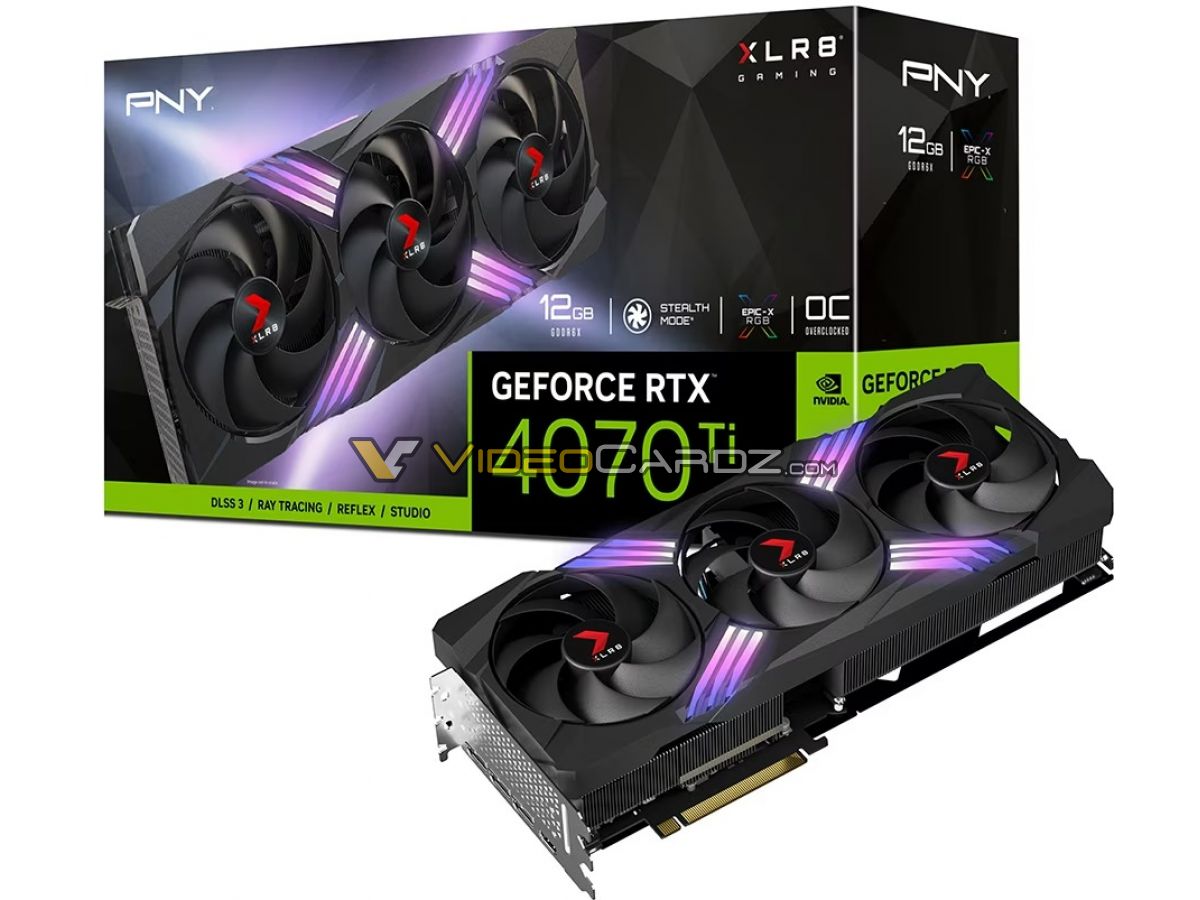 According to the specs reported by VideoCardz, the RTX 4070 Ti which is based on the AD104 GPU die will be featuring 7680 CUDA cores, 12GB of GDDR6X memory at a 192-bit bus width, a base GPU clock speed of 2310 MHz, and boost clock speed of 2610 MHz.

This is a confirmation that the specs of the RTX 4070 Ti is indeed identical to the canceled RTX 4080 12GB. Nvidia faced backlash for the naming scheme that made it seem like RTX 4080 12GB is just a cutdown version of the 16GB model with less memory.
However, that wasn't remotely true, as the 12GB model uses the AD104 GPU compared to its bigger sibling with the AD103. The 12GB model also does have less CUDA cores, less bandwidth, and smaller bus width, in essence the two graphics cards were vastly different in terms of specs.
Regarding the custom RTX 4070 Ti by PNY, the XLR8 version is the high-end model, featuring EPIC-X RGB lighting, more capable cooler, and will be overclocked out of the box, but both cards will feature a triple-fan design as seen above.
| Graphics Card | RTX 4090 | RTX 4080 | RTX 4070 Ti |
| --- | --- | --- | --- |
| Architecture | Ada Lovelace | Ada Lovelace | Ada Lovelace |
| Process | TSMC-4N | TSMC-4N | TSMC-4N |
| GPU | AD102 | AD103 | AD104 |
| Memory | 24GB | 16GB | 12GB |
| Bus Width | 384-bit | 256-bit | 192-bit |
| Mem Speed | 21 Gbps | 23 Gbps | 21 Gbps |
| Total Bandwidth | 1 TB/s | 736 GB/s | 504 GB/s |
| TDP | 450W | 320W | 285W |
| Launch Date | Oct 2022 | Nov 2022 | Jan 2023 |
| MSRP | 1599 USD | 1199 USD | TBC |
RTX 4090, 4080, and 4070 Ti Specs
Source: VideoCardz