With so many rumors regarding the launch of Intel's upcoming 14th-gen processor lineup codenamed 'Meteor Lake', it sure is nice to finally have official confirmation from the company, reaffirming that its original processor roadmap is still on track.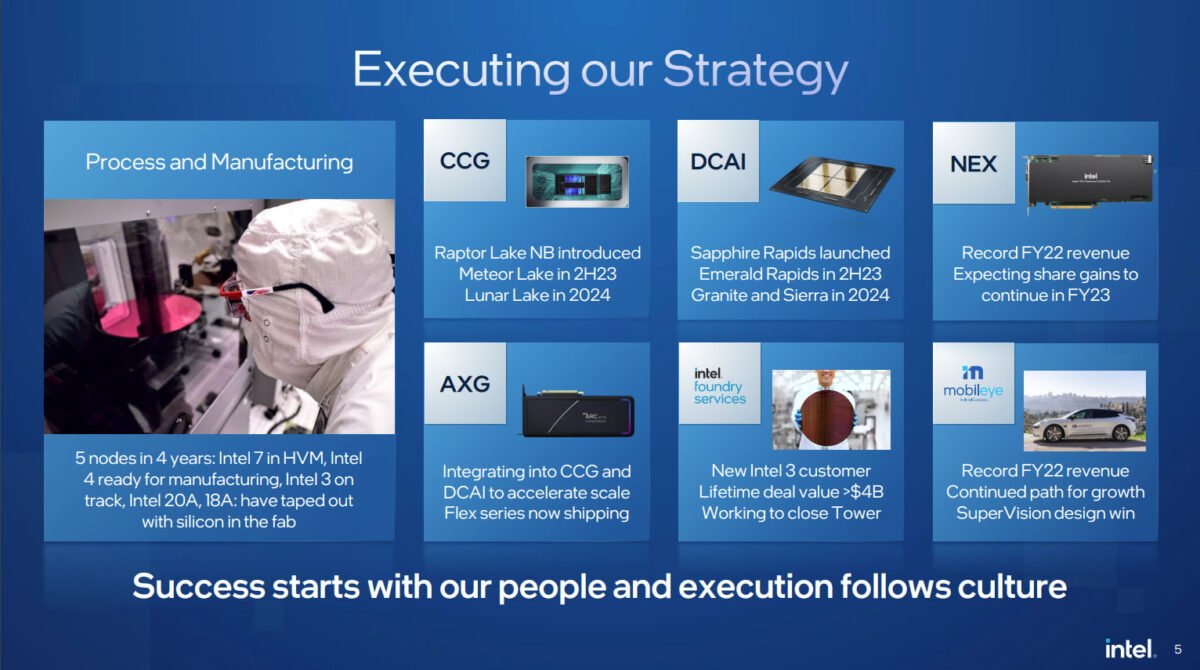 In its fourth quarter and full 2022 fiscal year results, Intel disclosed its earnings for the various business units under the company, and there was a lot to unpack there, but among the released documents were also highlights for the milestones executed, as well as updates for the upcoming products, most notably from the Client Computing Group (CCG), and Data Center and AI (DCAI) units.
Intel Foundry: Intel 4 Manufacturing Ready
On the process and manufacturing side of things, the IFS (Intel Foundry Services unit) reaffirms its commitment to executing 5 nodes in 4 years, with Intel 7 process currently being in high-volume manufacturing for both client and server sides.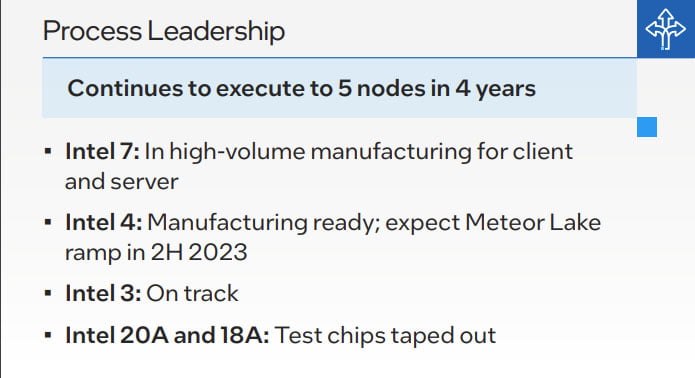 Furthermore, the company reports that Intel 4 process is already manufacturing-ready, while Intel 3 continues to be on track according to the company's roadmap.
Intel 4 and Intel 3 are the first nodes utilizing EUV (extreme ultraviolet lithography), representing a major step forward in terms of transistor performance per watt and density.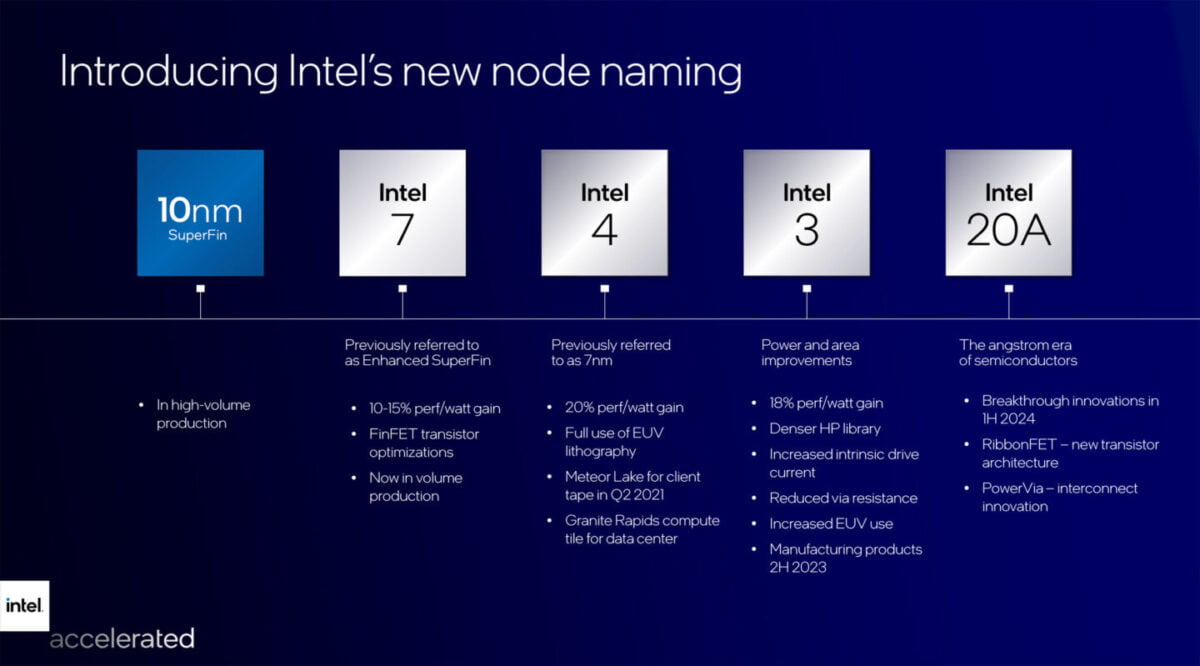 Intel CCG: Meteor Lake 2H 2023
On the client computing side, Intel put some of the rumors surrounding the cancellation of its 14th-gen Meteor Lake processor lineup to rest, with the company confirming that the CPU roadmap they released earlier last year is still on track, Meteor Lake will ramp-up production in the second half of 2023, while its successor codenamed Lunar Lake will begin manufacturing in 2024.
Not only will Meteor Lake be based on the newer Intel 4 process, but it will also be the first consumer-based generation from Intel making use of a chiplet / MCM (Multi-chip-module) design, consisting of different tiles for CPU, GPU, I/O, and SoC (System-on-a-chip), all packaged together using Foveros 3D packaging technology.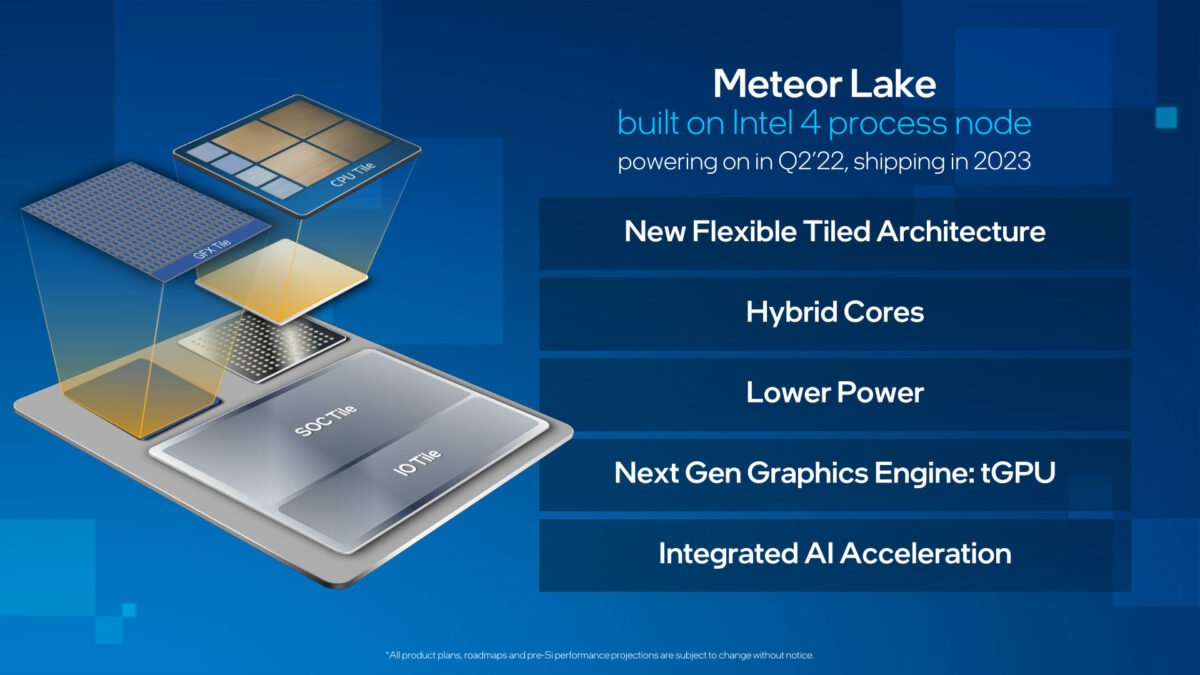 With Meteor Lake being mobile-first, what the company did not confirm though is whether it is going to release Meteor Lake for desktop this year as well, Intel also did not confirm the leaked roadmap containing information about a Raptor Lake refresh coming at the end of this year.
Intel DCAI: Emerald Rapids 2H 2023
On the server side of things, Intel has already released Sapphire Rapids with up to 60 Goldencove cores, which is the same microarchitecture used for 12th-gen Alder Lake desktop processors.
Meanwhile, the company states that its successor lineup, codenamed 'Emerald Rapids' are already powered-on in Intel labs, and expected to come out in the second half of 2023, with the following Xeon processors codenamed 'Granite Rapids' expected to come out in 2024, Sierra Forrest — the first all Efficiency core design — is also slated for a 2024 launch.
While Emerald Rapids is expected to go up to 64-cores, with a minor pump to both IPC and clock speeds over Sapphire Rapids, Granite Rapids however is rumored to go up to 128 cores, manufactured on Intel 3 process node, the cores are also rumored to be based on Redwood+ microarchitecture.
Intel AXG: Arc Alchemist Production Ramp
Earlier this month we saw some rumors pop up saying that Intel Arc is seemingly 'dead' with the company abandoning its discrete graphics cards roadmap, it is safe to say that after the statements released by CEO Pat Gelsinger and CFO Dave Zinsner, those rumors were put to rest, and Intel continues to be committed to the Arc project.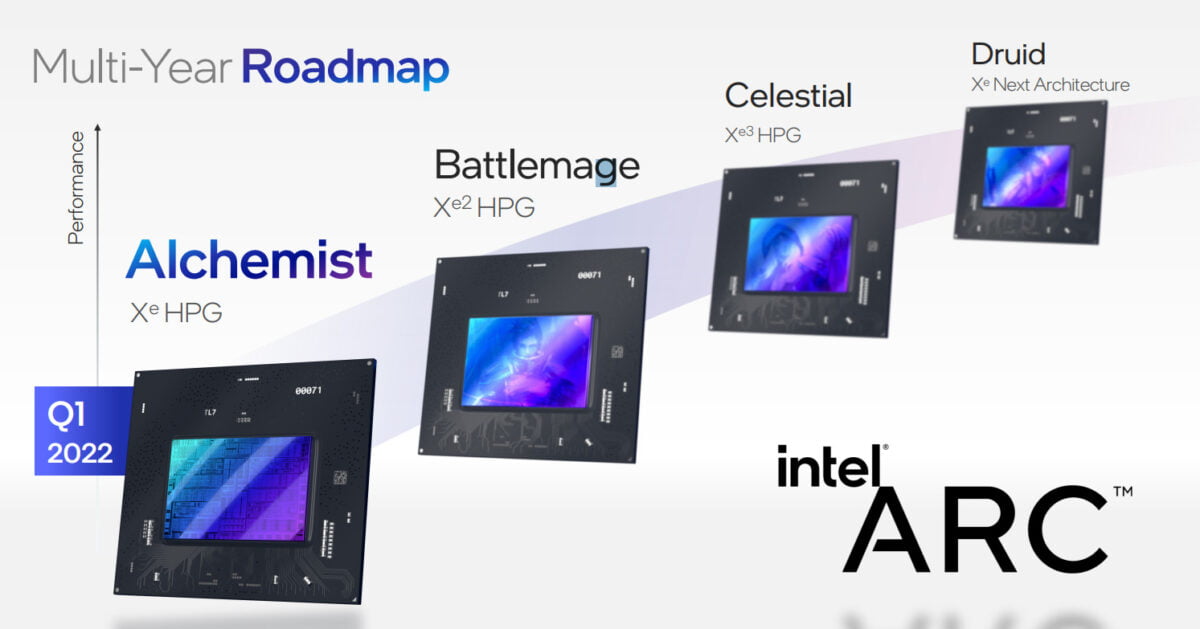 Intel will reintegrate/merge its Graphics business unit into the CCG, the company also reports that Alchemist-based discrete graphics production volume is expected to ramp up through 2023.
Once again, Intel did not confirm any of the rumors about Alchemist+ refresh coming in the third quarter of 2023 but based on the above we expect to see more Arc GPUs available towards the end of the year, while the company also continues to work on enhancing performance with driver updates.
Source: Intel