Based on a Rumor
Highlights & timeline:
Meteor Lake is the codename for Intel's 14th gen processor family based on Intel 4 process node, and is the successor to current 13th gen Raptor Lake.
Intel announced earlier that Meteor Lake mobile and desktop CPUs will arrive sometime between 2023 and 2024 according to the company's official roadmap.
A

leaked roadmap

for the company's next 5 quarters of updates (until the end of 2023) surfaced with no mention of Meteor Lake.
Intel's official website included information that indicated MTL (Meteor Lake) and 15th gen ARL (Arrow Lake) will be

released for desktop on socket LGA 1851

.
Now multiple sources claim the company canceled its plans to release MTL flagship 22-core CPU for desktop.
Earlier this year, Intel has officially released a roadmap detailing the company's product lineups and technologies for the future, with plans to release the 13th gen Core processors codenamed 'Raptor Lake' during the second half of 2022.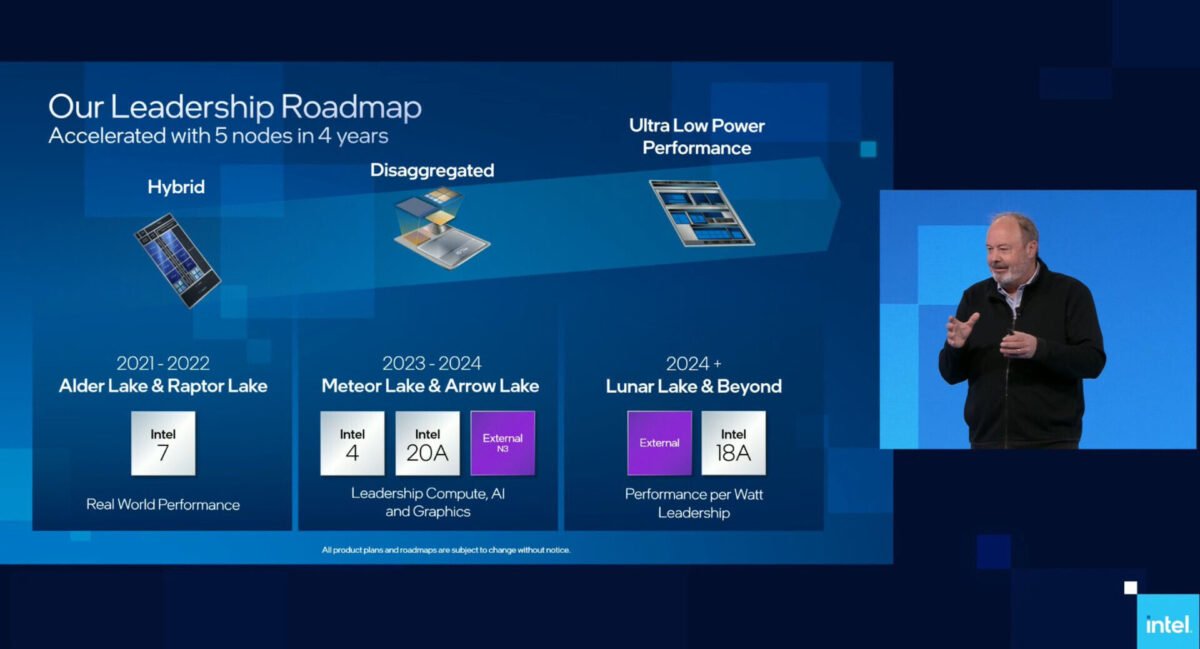 The tech giant also revealed plans to release the 14th gen Core processors codenamed 'Meteor Lake' sometime between 2023 and 2024. Just like Raptor Lake, Meteor Lake is based on the hybrid big.LITTLE architecture, with rumors saying the 14th gen processors will be packing the new Redwood Cove P-cores and Crestmont E-cores, with expected 15% IPC lift compared to Raptor Lake.
Unlike Raptor Lake however, which uses the Intel 7 node (fancy name for 10 nm process), Meteor Lake will be based on the Intel 4 node, which is a full node shrink as opposed to Intel 7. Intel also revealed that Intel 4 will be the company's first node to make use of EUV (Extreme Ultra Violet) lithography technology.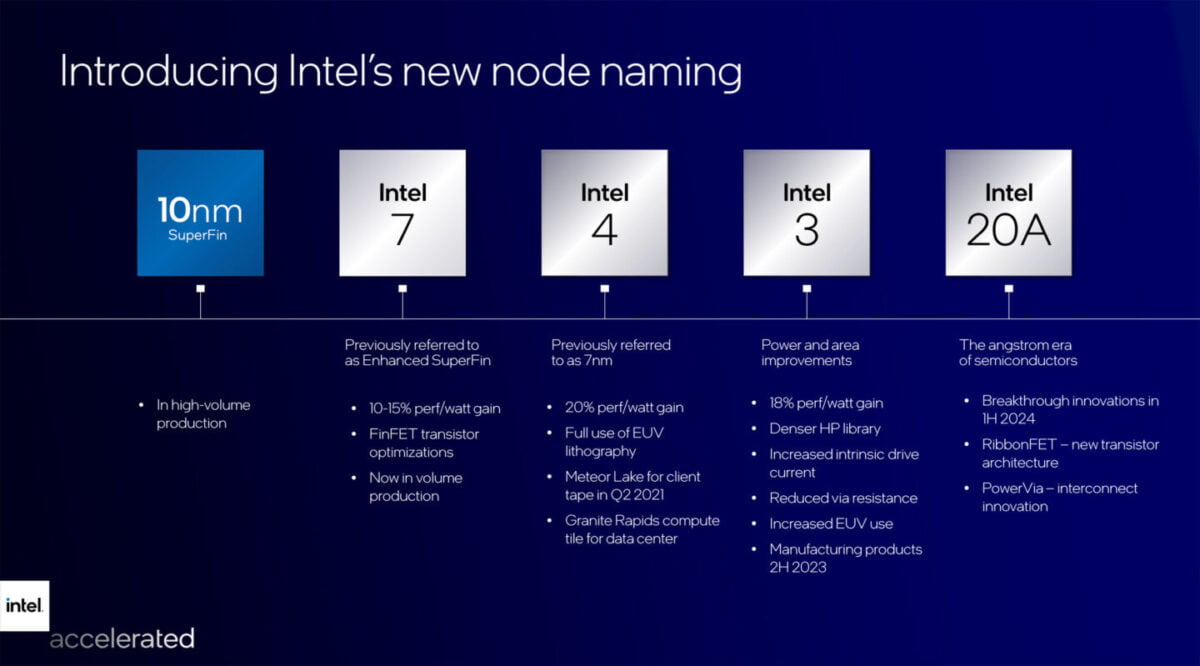 On top of all that, Meteor Lake will be the first consumer based processor from Intel to use a chiplet / MCM (Multi-chip-module) design, consisting of different tiles for CPU, GPU, I/O, and SoC (System-on-a-chip), all packaged together using Foveros 3D packaging technology.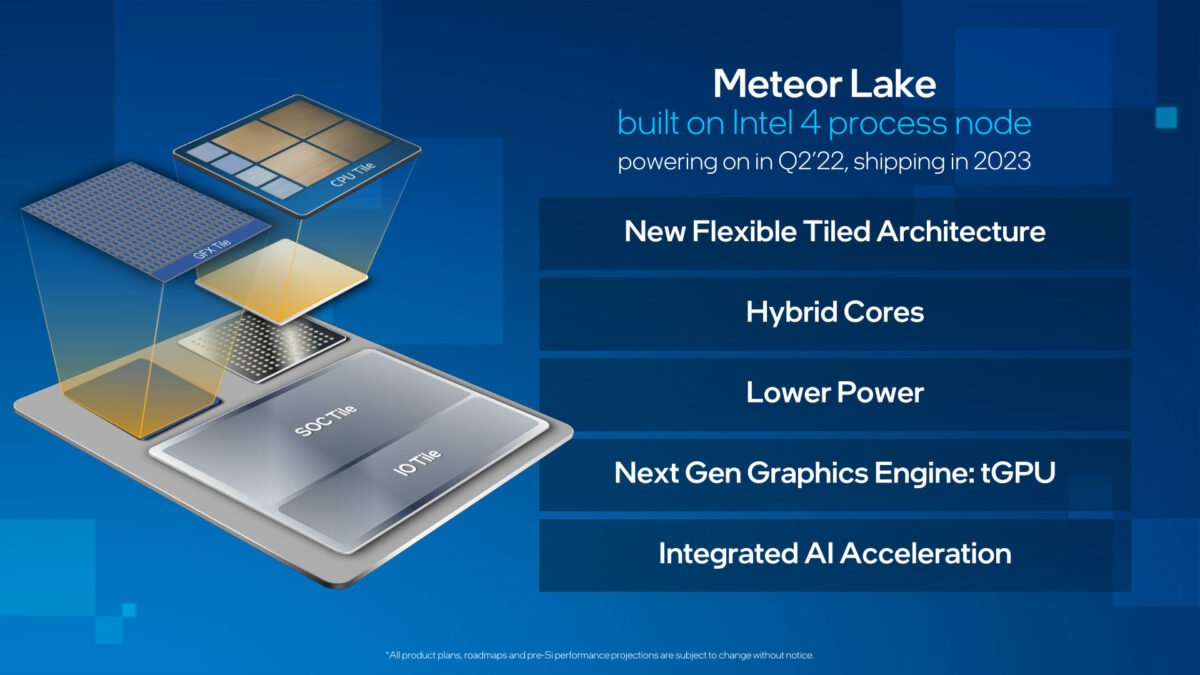 The Leaked Roadmap & LGA 1851 Socket
Earlier this month, a new leak surfaced with Intel's CPU roadmap for the next five quarters of updates until the end of 2023, including plans for both workstation and consumer based processor segments.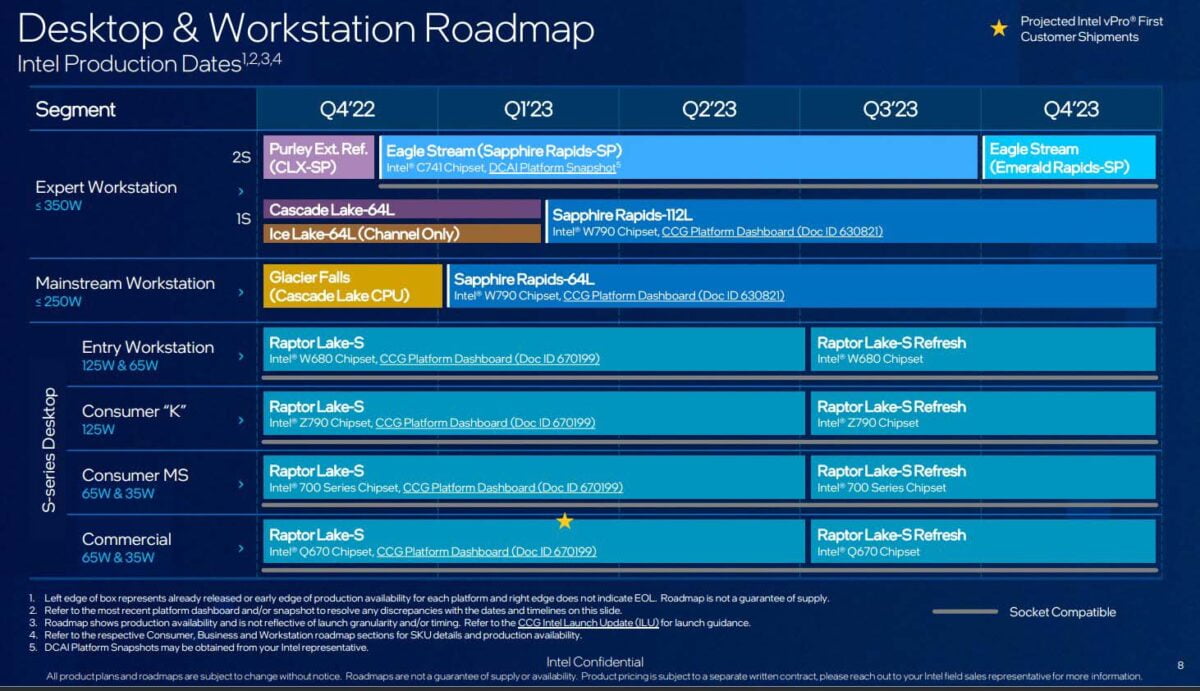 The leaked documents revealed that Intel will extend the current LGA 1700 socket life-cycle by releasing Raptor Lake-S refresh for the 13th gen processors. The Raptor Lake-S refresh is set to arrive in the third quarter for both the Entry Workstation segment, as well as desktop high-end, mainstream consumers, and commercial segments.
The lack of mention for 14th gen Meteor Lake desktop family meant that either Intel will delay its release till 2024, or the company decided to scrap its plans to release it for desktop altogether.
However, Intel's official website contained a sitemap that made references to both Meteor Lake and Arrow Lake both releasing for desktop on socket LGA 1851, with Meteor Lake in particular coming in three different versions: Meteor Lake-S for desktop, and Meteor Lake-P / Meteor Lake-M for mobile.

The new LGA 1851 socket has identical physical dimensions as the current LGA 1700 socket, albeit LGA1851 has a higher pin-count.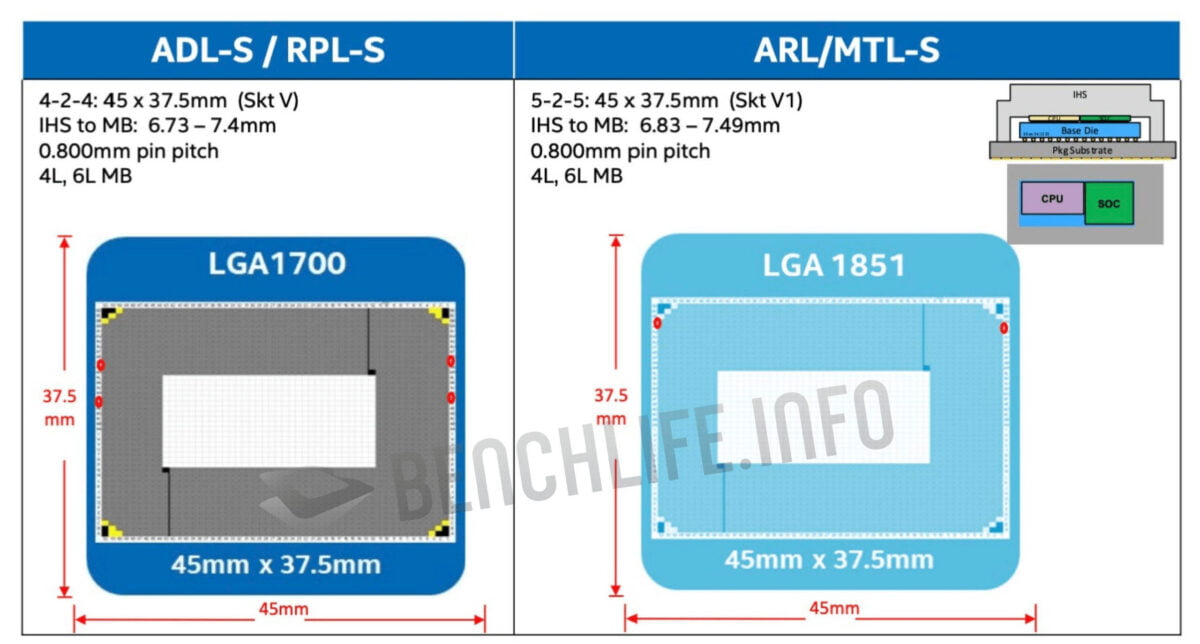 Multiple Sources Claim Flagship Meteor Lake Desktop CPU Seemingly Canceled
Hardware leaker Moore's Law is Dead suggests that Intel is facing problems with MTL-S desktop CPUs, particularly the flagship 22-core (6 P-Cores + 16 E-Cores configuration), the company also had plans for a Desktop first 8P+16E configuration, but this has been seemingly canceled, with the 6P+8E being the top die used for Core i7 / Core i5 desktop processors.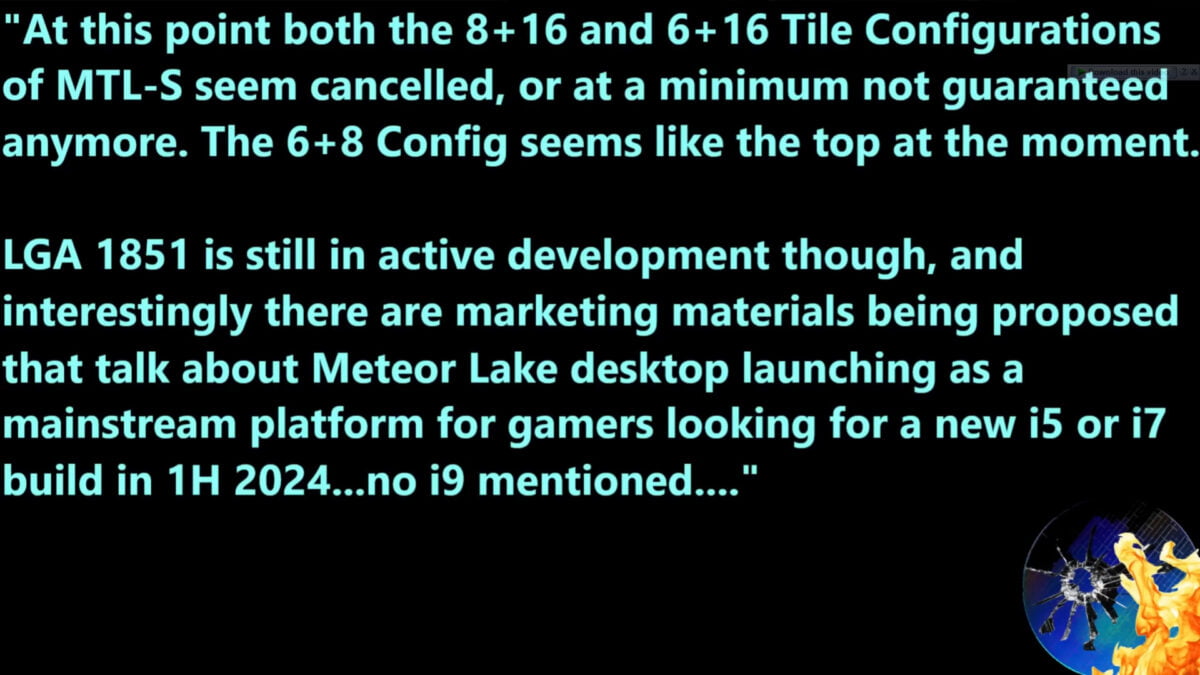 Furthermore, over on Twitter @OneRaichu – who has an accurate track record when it comes to leaks and rumors – also claims that the company has seemingly canceled its plan for MTL-S desktop processors.
MTL-S seems maybe canceled.🤔

— Raichu (@OneRaichu) December 23, 2022
So far other than the roadmap from Intel with plans to release Meteor Lake processors during 2023-2024 nothing else has been officially confirmed. The news about the cancellations of Meteor Lake desktop processors are based on rumors, so treat them as such.
Sources: Moore's Law is Dead, OneRaichu