In recent weeks we have seen many leaks for the performance of Intel's 13th gen Raptor Lake mainstream processors, the Core i5-13400 and Core i5-13500, with a marked jump in multi-threaded performance compared to their predecessors from the current 12th gen, albeit all previous leaks contained only synthetic benchmarks.
A new leak posted on Bilibili and this time with a more detailed testing for the Core i5-13400, comparing it against the current 12th gen Core i5-12400 in many synthetic benchmarking applications, as well as video render times and gaming performance. The Core i5-13400 tested in this video is the retail version which is expected to hit the shelves early next year.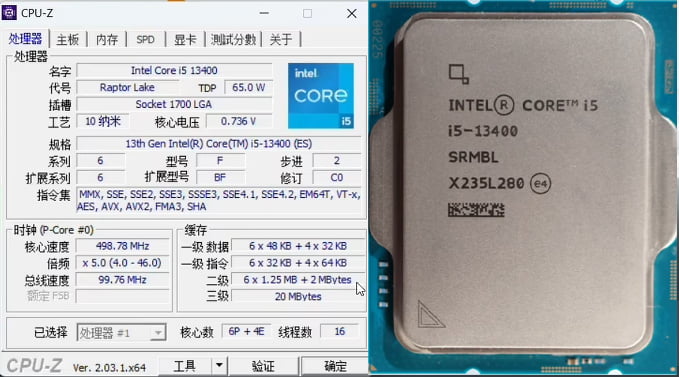 The Core i5-13400 is a 10 core / 16 thread processor (6P + 4E), it has base frequency of 2.5GHz, a max boost frequency of 4.6GHz, TDP of 65W, 20MB L3 Cache, and comes with Intel UHD Graphics 770.
The tests done were split into 3 different categories
synthetic benchmarks: Cinebench, CPU-Z, 3DMark Time Spy & CPU profile, Futuremark PCMark 10
Video rendering: DaVinci Resolve, Adobe Premiere Pro
Games: LOL, CS:GO, Far Cry 6, Rise of the Tomb Raider, Red Dead Redemption 2, Cyberpunk 2077, Assassin's Creed Odyssey
Test Setup
Motherboard: MSI Mag B660M Mortar
Memory: 2x 8GB DDR4 3200MHz
Graphics: Nvidia GeForce GTX 1080 Ti
Operating System: Windows 11 22H2
Synthetic Benchmarks
3DMark Time Spy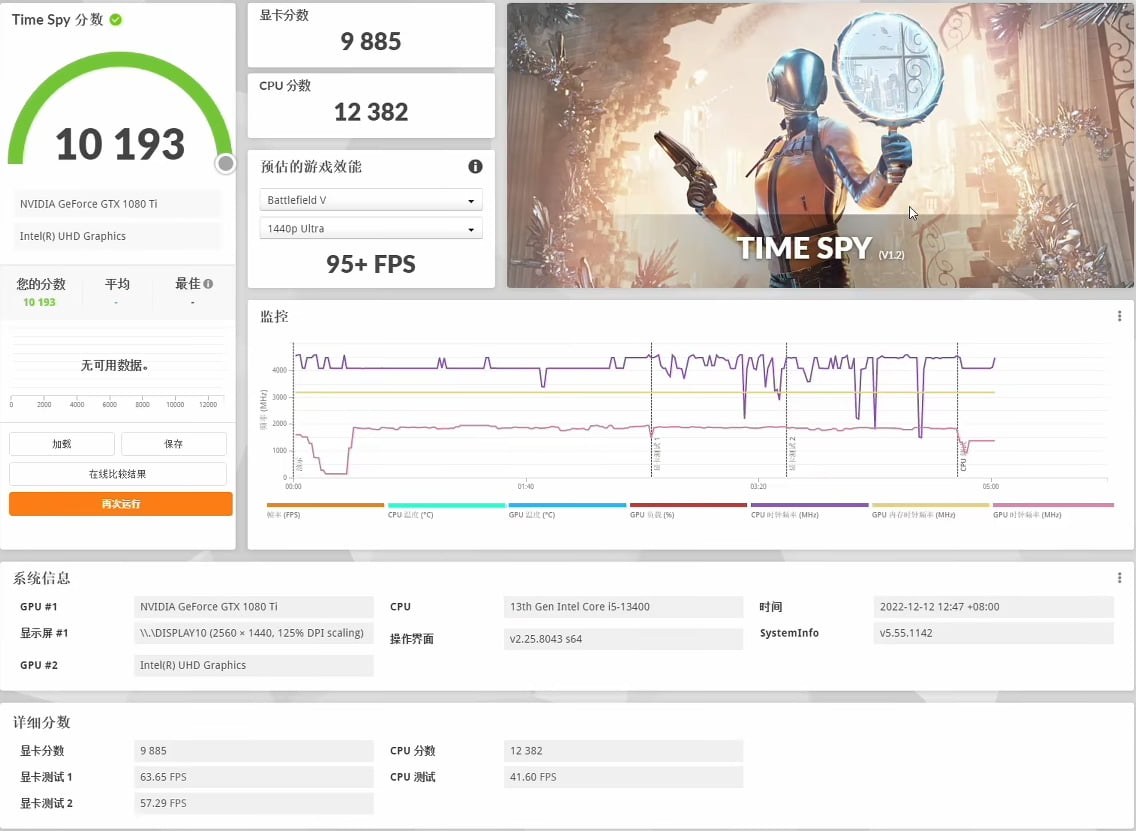 The Core i5-13400 managed to score 12,382 points (CPU score only), which is 30% faster compared to the Core-12400 which scored 9,535 points, in the CPU Profile benchmark, the gap in performance shrinks to 4.5% when you consider the performance of 1 thread only.
PCMark 10
In the essentials category such as application start or web browsing, the Core i5-13400 has a very minor lead over its 12th gen predecessor, however, in the productivity and digital content creation categories this lead becomes significant, especially in the rendering and spreadsheet tests which saw the biggest improvements.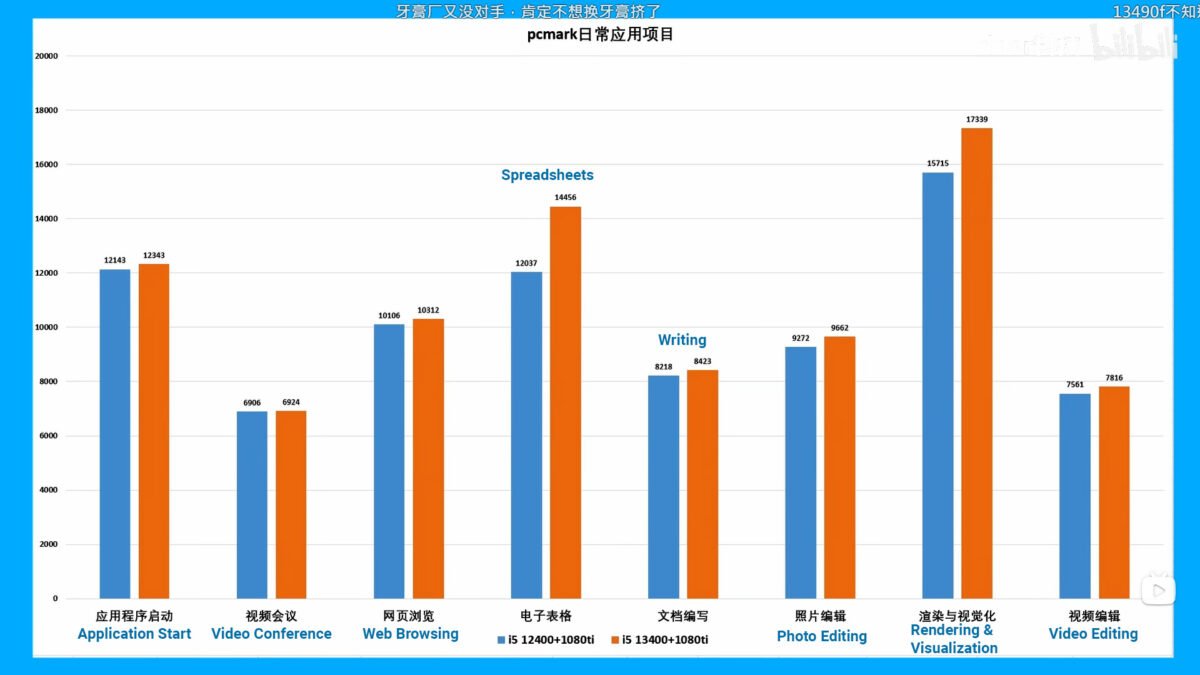 The following chart contains all synthetic benchmarks done, in summary all multi-threaded tests show a ~30% improvement for the Core i5-13400, while single-thread tests show a smaller one between 4.5% – 8.5%.
Video Editing / Render Times
The video render test used a recorded footage during one of the games, with a file size of 7.63 GB exported using the default 1080p preset in both DaVinci Resolve and Adobe Premiere Pro without any modifications. The Core i5-13400 was 27.5% and 11.9% faster in DaVinci Resolve and Premiere Pro respectively.
Note that according to Adobe, Premiere Pro does not scale very well beyond 8 cores (it runs at 93-98% efficiency with 8 cores, unlike After Effects which can take advantage of up to 32 cores), both application though benefit from higher core clocks (3.2 GHz or higher).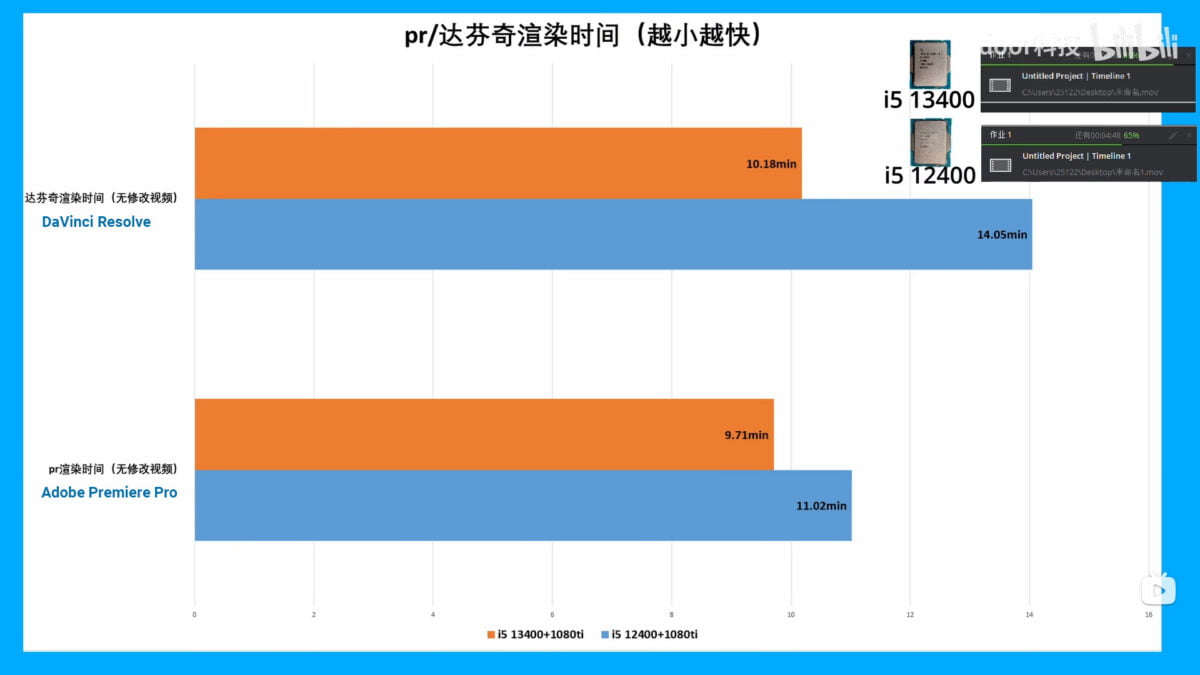 Gaming Benchmarks
Both CPUs scored almost identical frame-rate in most games tested, with the outlier here being League of Legends and CS:GO where the Core i5-13400 managed to achieve 33 and 10 higher FPS respectively.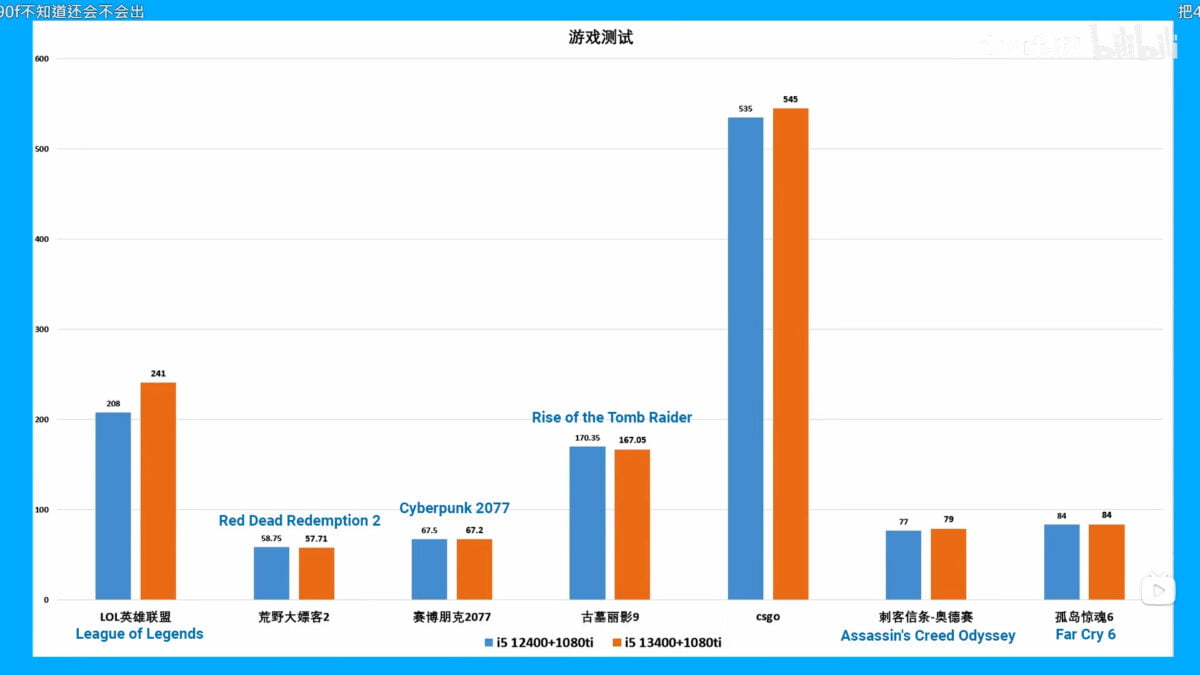 Summary
Compared to its predecessor, the Core i5-13400 has an additional 4 E-Cores, +200 MHz turbo boost frequency, an extra 2 MB L3 cache, and comes with UHD 770 iGPU as opposed to UHD 730 on the Core i5-12400.
The Core i5-13400 CPU profile test paints a very accurate picture for its performance compared to last gen, minor improvement – if any – when it comes applications that favor single-thread performance, but the improvement gets bigger the more an application is optimized to take advantage of more cores / threads.
Note that the 13th gen Raptor Cove (P-Cores) bring minimal IPC uplift compared to 12th gen Golden Cove, as they both use the same underlying microarchitecture, which explains the smaller performance gain in single-threaded tests / games. The extra 200 MHz boost frequency should help, but then you have to take into account the hybrid architecture shenanigans where the additional E-Cores could cause the ring bus frequency to drop, which in turn introduces latency penalties to both cache and memory.
There is no official confirmation from Intel on the price as of yet apart from the prices shown by PC Canada. Adjusted for USD, the Core i5-13400 is going to retail for ~$239 (Core i5-13400F for ~$212).
The one to really watch out for is going to be the Core i5-13500, which according to previous leaks is on par with the Ryzen 7700X in ST / MT performance and expected to cost $100 less based on current prices.
Processor
Core i5-12400
Core i5-13400
Generation
12th gen Alder Lake
13th gen Raptor Lake
Socket
LGA 1700
LGA 1700
Cores / Threads
6C / 12T
10C / 16T
Core Configuration
6x Golden Cove
+0x Gracemont
6x Raptor Cove
+ 4x Gracemont
Silicon / Stepping
Alder Lake
C0
Raptor Lake
B0 / C0
Base Frequency
2.5 GHz
2.5 GHz
Turbo Boost Frequency
4.4 GHz
4.6 GHz
L3 Cache
18MB
20MB
Integrated Graphics
UHD Graphics 730
UHD Graphics 770
Memory Support
DDR4 / DDR5
DDR4 / DDR5
TDP
65W
65W
Release
Jan, 2022
Jan, 2023
Core i5-13400, Core i5-12400 specs
Source: Bilibili