It's crazy to think that Nvidia haven't even launched the RTX 4070 Ti officially yet considering the amount of leaks we have been seeing so far for retailers and shops listing the card for sale in Europe and the Asian market.
Just a few days ago we have seen the Gigabyte RTX 4070 Ti Gaming OC Edition retailing in Serbia for the equivalent of 1,400 USD, and now over at Chinese website Baidu (courtesy of Wccftech), a user has posted pictures for MSI GeForce RTX 4070 Ti Gaming X Trio & the MSI GeForce RTX 4070 Ti Ventus 3X custom models.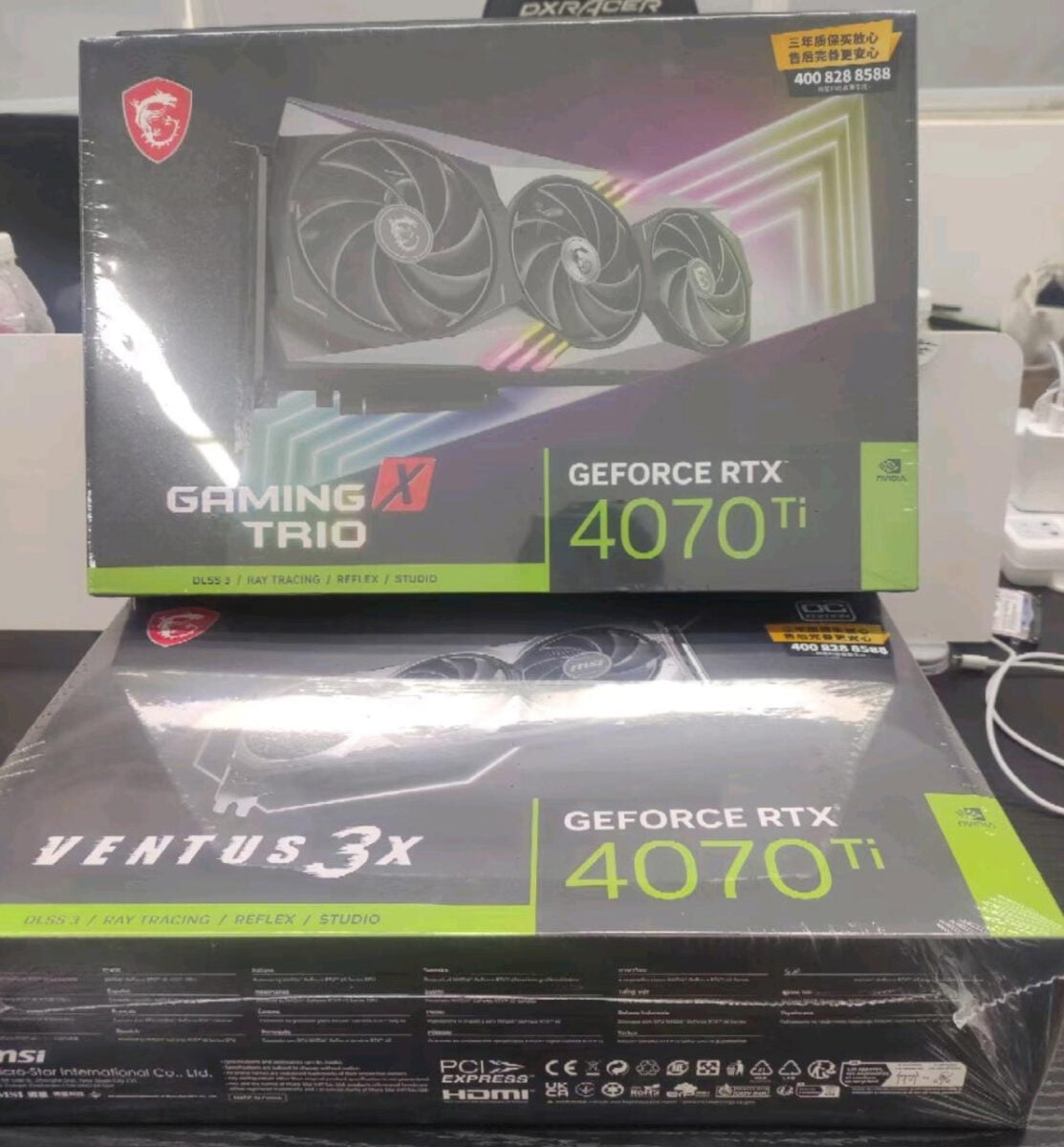 The user also shared information regarding the pricing, the RTX 4070 Ti Gaming X costs 7599 RMB, which is the equivalent of around $1,092 US, while the Ventus 3X variant costs 7199 RMB or the equivalent of $1,034 US.
When looking at this price It is worth taking into accounts two factors however:
These are custom models which typically have a higher price tag than the Nvidia recommended price for the Founders Edition.
The Chinese market has a sales tax rate of 13%, which means that these cards will be cheaper in the US market.
Still even if you factor in the tax rate, that puts these cards at around $900 US for the Ventus 3X, and $950 US for the Gaming X Trio, coincidentally back in September when Nvidia announced the RTX 4090, 4080 16GB, and RTX 4080 12GB, these cards had an official MSRP of $1,599, $1,199, and $899 respectively.
This means that even if you factor in the sales tax rate, the price for the cheapest RTX 4070 Ti model matches the official MSRP of the canceled RTX 4080 12GB. So in essence, Nvidia canceled the RTX 4080 12GB model, rebranded it and then re-released it as the RTX 4070 Ti with the exact same specs and price as the canceled card.
The card made an appearance on a Geekbench test where it scored 214,654 points in Geekbench 5 OpenCL test, showing a 45% improvement over last gen RTX 3070 Ti which has an OpenCL score of 147,200 points in Geekbench database.
The RTX 4070 Ti will be based on AD104 GPU die, featuring 7680 CUDA cores, 12GB of GDDR6X memory at a 192-bit bus width, a base GPU clock speed of 2310 MHz, and boost clock speed of 2610 MHz. and it is expected to officially launch in the first week of January.
| Graphics Card | RTX 4090 | RTX 4080 | RTX 4070 Ti |
| --- | --- | --- | --- |
| Architecture | Ada Lovelace | Ada Lovelace | Ada Lovelace |
| Process | TSMC-4N | TSMC-4N | TSMC-4N |
| GPU | AD102 | AD103 | AD104 |
| Memory | 24GB | 16GB | 12GB |
| Bus Width | 384-bit | 256-bit | 192-bit |
| Mem Speed | 21 Gbps | 23 Gbps | 21 Gbps |
| Total Bandwidth | 1 TB/s | 736 GB/s | 504 GB/s |
| TDP | 450W | 320W | 285W |
| Launch Date | Oct 2022 | Nov 2022 | Jan 2023 |
| MSRP | 1599 USD | 1199 USD | 899 USD? |
RTX 4090, 4080, and 4070 Ti Specs